Martin Shkreli, Ex-Turing Pharmaceuticals CEO, Used E-Trade Account To Post $5M Bond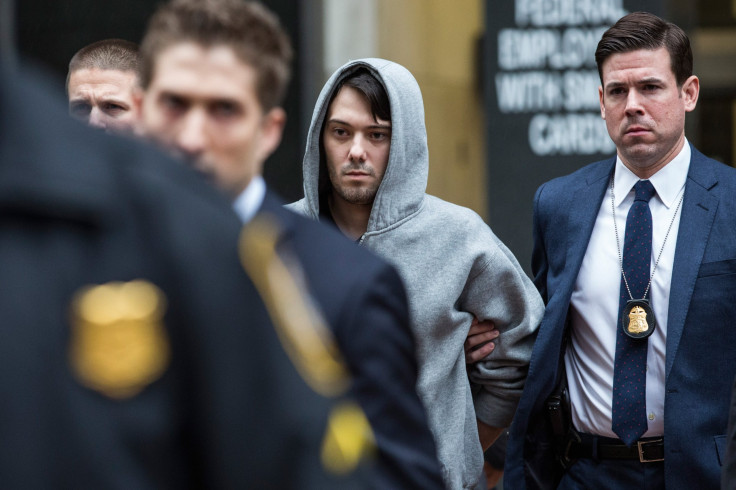 Martin Shkreli used a brokerage account at online securities firm E-Trade to post a $5 million bond after his arrest on Dec. 17, prosecutors said Thursday in a court filing. The brokerage account, which had about $45 million, was the first public revelation of how much money Shkreli, who is accused of running a Ponzi-like scheme between 2009 and 2014, made in the pharmaceutical industry.
He was indicted in December on criminal charges for siphoning off millions of dollars from Retrophin, another pharmaceutical company founded and run by him, CNN Money reported. Shkreli was ousted from Retrophin's board of directors in 2014 and has since also resigned as the CEO of Turing Pharmaceuticals. He was also ousted from the drug company KaloBios, which filed for bankruptcy on Dec. 29. If convicted, Shkreli could face 20 years in prison.
Although Shkreli is out on a bond, he is currently not allowed to use any funds from his account at E-Trade. It was not clear if Shkreli — who local media and politicians have called "the most hated man in America" after he increased the price of Turing's life-saving HIV drug, Daraprim, from $13 to $750 — has assets in any other brokerage or bank accounts.
According to a report by CNBC, several restrictions have been placed on Shkreli by the deal he struck with the court. Although a magistrate judge, Kiyo Matsumoto, agreed to accept Shkreli's E-Trade account as collateral, she banned Shkreli and his relatives, employees and other associates from selling off or transferring any of the holdings in the account. Matsumoto also barred that account from being used to get further debts and ordered E-Trade to let federal prosecutors know if funds in the account were less than $5 million.
In an interview to the Wall Street Journal in December, days after his arrest, Shkreli said that he was being targeted by authorities. He claimed in the interview he was arrested because he conducted a special experiment and was teasing people on the internet. Shkreli, who has been called a "morally bankrupt sociopath" and "everything that is wrong with capitalism," rejected the allegations against him.
"Quite frankly, it was not something I expected, and definitely not something I deserve given the facts. … That seems like a real injustice," Shkreli said in the interview.
© Copyright IBTimes 2023. All rights reserved.
FOLLOW MORE IBT NEWS ON THE BELOW CHANNELS