McDonald's Corporation Faces 'The Cyanide Of Crisis Management' In Civil Rights Lawsuit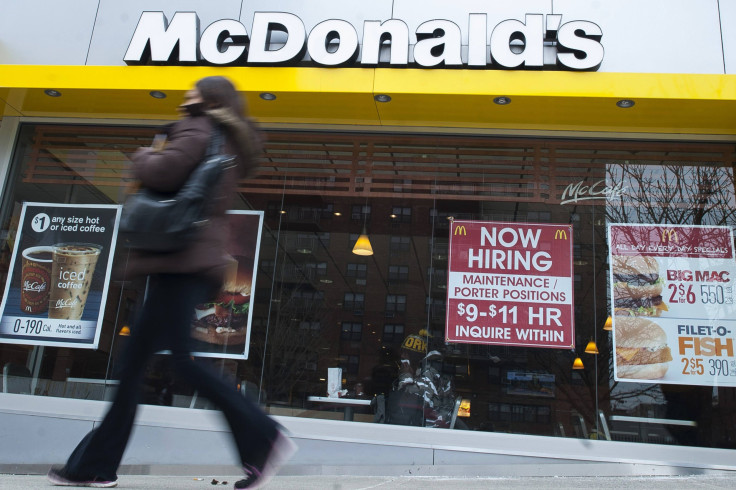 The McDonald's Corp. is no stranger to controversy. Its outsize presence in an industry dependent on low-wage hourly workers and consumer hunger for low-cost foods full of sodium, sugars and trans fats makes the fast-food giant a target on numerous fronts, including wages, factory farming and childhood obesity.
Because it's such an obvious target, the Oak Brook, Illinois, maker of the Quarter Pounder has a crisis-management machine that's as well oiled as its popular 19-ingredient French fries. When the company was widely ridiculed in 2013 for an impractical sample monthly budget guide for its employees, McDonald's immediately responded by defending its five-year financial literacy program, as reported by WTVR-TV. It also quickly expunged the controversial part of the guide from a website.
But now the 75-year-old company with a market capitalization of $87 billion faces a Civil Rights Act of 1964 lawsuit filed in a federal court Thursday that raises the question of whether McDonald's shares responsibility for the allegedly racist actions of a franchise operator.
"Race is the cyanide of crisis management. There is no winning, only losing by less," Eric Dezenhall, co-founder of Dezenhall Resources, a Washington-based crisis-management consultancy, told International Business Times via email: "McDonald's people are as sophisticated as you'll find anywhere but … on race, there is no explaining, only righting wrongs and/or going about the quiet business of preventing such problems going forward on an operational level."
'Get The Ghetto Out Of The Store'

Ex-workers say the owner of three McDonald's restaurants in Virginia allowed a climate of racist hostility against African-American and Hispanic employees. Ten black plaintiffs claim a dozen workers were fired simultaneously last May after managers said the stores were "too dark" and that they needed "to get the ghetto out of the store," according to Willie Betts, a former McDonald's line cook and one of the plaintiffs in the suit. Betts was quoted in a release about the suit by the Fight for $15 organization seeking a $15 per hour minimum wage and the right to form a union without retaliation in the fast-food industry.

"They wanted nonwhite workers out of the store, period," the Rev. Kevin Chandler, head of an NAACP chapter in South Boston, Virginia, said when the civil lawsuit was announced Thursday.
The suit names as defendants the McDonald's Corp. and McDonald's USA, as well as the franchise-operating Soweva Co. and its owner, Michael Simon. The case aims at challenging McDonald's stance that its franchisers are solely responsible for how employees are treated.
McDonald's hasn't addressed the case directly, but issued the following statement to the media, "McDonald's and our independent owner-operators share a commitment to the well-being and fair treatment of all people who work in McDonald's restaurants."
Is McDonald's USA Responsible?
To what extent McDonald's shares this commitment is an issue that has been mounting since last summer when the National Labor Relations Board, or NRLB, said McDonald's USA, a unit of the global corporation, is a "joint employer" that shares responsibility with its franchise operators. The decision came after a string of protests nationwide over the low hourly wages paid by multibillion-dollar fast-food corporations led to alleged retaliation against employees who participated in the protests.

That determination could have sweeping implications in the franchise system. About 90 percent of McDonald's roughly 14,000 U.S. stores are owned by smaller companies such as Soweva. The International Franchise Association has claimed that if the courts side with the NRLB decision, it would kill the franchise system by making small individually owned franchises "one and the same" as the companies that license them.
McDonald's fired back aggressively at the NRLB decision in December, calling it an "attack on its business" from "a two-year, union-financed campaign." It was an indirect reference to the Fight for $15 movement that has called for a $15 hourly minimum wage for employees of large, publicly traded corporations, including McDonald's, Domino's Pizza Inc. and Yum Brands Inc. (owner of KFC, Pizza Hut and Taco Bell). The movement has the backing of the Service Employees International Union, as well as independent labor-rights and religious groups.
How McDonald's will tackle the civil-rights case filed in the U.S. District Court for the Western District of Virginia isn't clear yet.

In 2013, McDonald's forced a franchise operator to sell his six central Pennsylvania outlets in the wake of alleged labor violations, as CNN reported at the time. Franchisee Cheung Enterprises LLC and President Andrew Cheung were accused of wage violations of 178 workers that were in the U.S. on J-1 student visas. (Cheung agreed to settle the case with the U.S. Labor Department last year, after he sold the restaurants to new owners.)

McDonald's wasn't named as a defendant in that case, but it moved against Cheung as part of its crisis-management response. It could eventually do the same to Soweva Co., booting it from its franchise system.
Will 'Joint Employer' Charges Stick In Civil-Rights Case?
The joint-employer issue is playing out in the courts. A California judge last year opposed the NRLB ruling in a case involving alleged wage violations at a franchise of Massage Envy, which licenses its brand to independent store owners.
But the issue is far from settled, said David C. Yamada, director of the New Workplace Institute at the Suffolk University Law School in Boston.

"It's very possible that the NLRB ruling concerning McDonald's and joint employer status could influence the ruling in the Virginia civil rights lawsuit on the same issue," Yamada said via email. "However, the result is not clear cut: A federal court presiding over a Title VII civil rights claim is not absolutely bound by definitions of joint employer status as defined by the NLRB for wage and hour laws."
© Copyright IBTimes 2023. All rights reserved.