McDonald's Franchisee Fight: As Industry Lobbyists Warn Of Doomsday, Fast-Food Chain Announces Growing Profits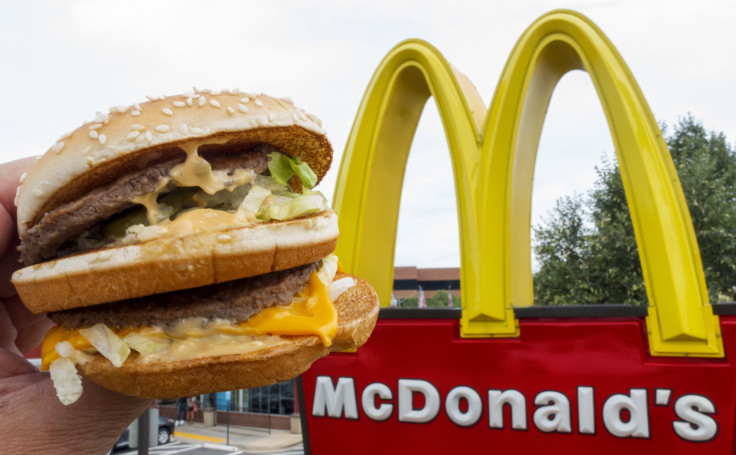 From the cook who prepares your Big Mac to the drive-thru attendant who hands it to you, most fast-food workers in the U.S. don't work directly for any of the familiar big-name outlets. They work for franchisees who pay the major companies to use their logos, menus, recipes and sometimes even their management advice.
Now that decades-old business relationship is under assault, according to the big fast-food corporations. Growing efforts from the federal government to put major companies on the hook for labor violations committed by their franchisees pose a major threat to the industry, they've warned. Recent developments in Washington suggest that if a franchisee breaks any labor laws, then its parent company will share the blame.
The hullabaloo reached peak intensity after an August 2015 ruling by the National Labor Relations Board (NLRB) that broadened the agency's definition of who qualifies as a "joint employer." Under the new standard, parent companies bear greater liability for illegal workplace practices overseen by their subcontractors or franchisees — when a boss retaliates against a group of workers asking for a raise, for example.
In response, the nation's largest franchise lobby blasted Washington for casting doubt on "the future viability of the franchise model of doing business," warning that the decision "threatens millions of jobs." Last December, a report from the well-respected industry data provider FRANdata said the final impact of the ruling remains to be seen. But it also said that "at least 40,000 small businesses" were "at risk of failure" as a direct result of the NLRB's recent ruling.
Those doomsday theories were put to the test earlier this week when McDonald's Corp. released its earnings report for last year's final quarter — the first full fiscal quarter during which the NLRB's new joint employer standard has been in place. As one of the nation's largest franchisers, the fast-food giant should, according to certain theories, should be reeling from the labor's board recent ruling. In fact, it's doing just fine.
McDonald's Corporation (MCD) | FindTheCompany
On Monday, McDonald's announced its strongest sales growth of any quarter in nearly the last four years, showing an increase of 5.7 percent in the United States. The company's overall profits last quarter grew to $1.2 billion, up from $1.1 billion during the same period in 2014. The numbers defied expectations on Wall Street, sending the company's stock soaring to a record high before settling around $119 a share.
Morningstar analyst R.J. Hottovy said a beefed-up joint employer standard from the NLRB isn't hurting McDonald's or other big fast-food companies. "Not at all," he said.
The major food corporations are all aware of the NLRB ruling and are closely watching how it's applied, Hottovy said. But it's not doing any damage at the moment.
About 90 percent of McDonald's U.S. stores are franchise-operated. According to the company's SEC filings, profit margins at these locations grew 8 percent compared to the final quarter of 2014 as a result of better sales. By contrast, margins at company-operated stores fell 7 percent.
"There's zero evidence right now that joint employer is preventing franchises from expanding," agreed Jonathan Maze, a finance reporter for Nation's Restaurant News, a trade publication that covers the food service industry. "There is no evidence that it's having an impact."
McDonald's Corporation (MCD) Street Actual & Estimate EPS - Last 5 Quarters | FindTheCompany
Over the course of 2015, franchised employers added 376,000 jobs, according to figures from payroll processor ADP. Restaurant franchises were responsible for 57 percent — or 214,000 — of those jobs.
"Job growth frankly is the best indication of whether an industry is healthy or not," Maze said. "An employer's not going to add jobs if they don't think things are getting better or don't have a need for them."
McDonald's did not respond to a request for comment.
Nevertheless, the new joint employer standard could well make a difference in the long run, Maze said. Increased liabilities may harm growth or "change the way" franchises and franchisees operate.
A few important factors cloud the ultimate meaning of the board's ruling at this point: Firstly, it's being challenged in federal court. Secondly, its effects depend largely on how frequently the agency decides to pursue complaints of alleged labor law violations against companies and their franchisees as joint employers. Lastly, it remains unclear how other key federal agencies will respond, like the U.S. Department of Labor's Wage and Hour Division, which makes sure employers are obeying minimum wage and overtime laws.
The Labor Department recently unveiled an administrative guidance announcing that it would pay closer attention to subcontractors and temp agencies, but like the NLRB's ruling last August, it remains unclear what the warning shot means in practice.
The NLRB is currently considering a case against McDonald's and its franchisees over alleged unfair labor practices. It will eventually decide whether the company is actually a joint employer and then whether it is responsible for the alleged violations. The labor board took up the case before it broadened its joint employer standard last August. No cases of a similar magnitude have surfaced since then.
Nevertheless, Hottovy believes the large fast-food companies are going to be alright. "Most of these companies are dealing with pretty large cash positions on the balance sheet, so I think they're all pretty well prepared, if there were changes," he said.
Cathy Ruckelshaus, staff attorney at the left-leaning National Employment Law Project, said McDonald's ongoing business success undermines lobbyists' warnings about the effects of the NLRB ruling. Last year, for example, the top lobbyist at the International Franchise Association called enhanced scrutiny over joint employment an "existential threat to this industry."
"I don't really understand the McDonald's claim that there's a lot of uncertainty and lack of clarity about what's happening on the federal level," she said. "The claims by the corporation that there's business uncertainty and it's harming its business aren't being borne out by these good earnings reports."
Ruckelshaus said companies that comply with the law and don't trigger complaints from workers have little to worry about.
© Copyright IBTimes 2023. All rights reserved.