McDonald's Workers To Strike Wednesday Over Working Conditions And Hazard Pay
McDonald's (MCD) workers are reportedly planning on going on strike on Wednesday as they fight for better safety protections during the coronavirus pandemic.
The strike is expected to include hundreds of McDonald's workers across 20 cities in at least 17 states that is being organized by the Fight for $15 minimum wage labor campaign and supported by the Service Employees International Union (SEIU), with SEIU President Mary Kay Henry telling USA Today, "McDonald's can do the right thing and protect its workers. It is choosing not to."
Workers at McDonald's are calling for better safety procedures as they work during the COVID-19 crisis as some workers say that McDonald's told them not to wear gloves and masks when working while others claim they have come to work sick because they were afraid of repercussions, the news outlet said.
McDonald's told USA Today, the strike is a strategically timed "publicity stunt" as the company's annual shareholders meeting is slated for Thursday.
Both McDonald's and workers have reportedly taken out full-page advertisements in national newspapers to show their respective position on the company's COVID-19 protocols. The McDonald's ad, which appeared in The New York Times on Tuesday, said it has started to reopen restaurants and has implemented more than 50 new safety measures that go "well beyond masks and gloves."
The ad from the company's workers appeared in USA Today on Wednesday, saying, "We are aware of scores of cases of COVID-19 positive workers in at least 16 states across the country. Time and time again, McDonald's has failed to swiftly close and disinfect stores following confirmed reports of COVID-19 among employees. To make matters worse, your restaurants have also failed to promptly inform workers of exposure to the virus and to provide pay during quarantine."
McDonald's workers are not the only employees that have staged walkouts during the coronavirus pandemic. Target, Instacart, Amazon, Whole Foods, and Walmart workers staged similar protests over workplace conditions and hazard pay.
McDonald's workers are reportedly calling for a wage increase, paid sick leave, and more protective gear as well as store closings for deep cleaning, where employees are infected with COVID-19, contact tracing, and two-week quarantine when necessary.
Shares of McDonald's stock were up 2.11% as of 11:10 a.m. EDT on Wednesday.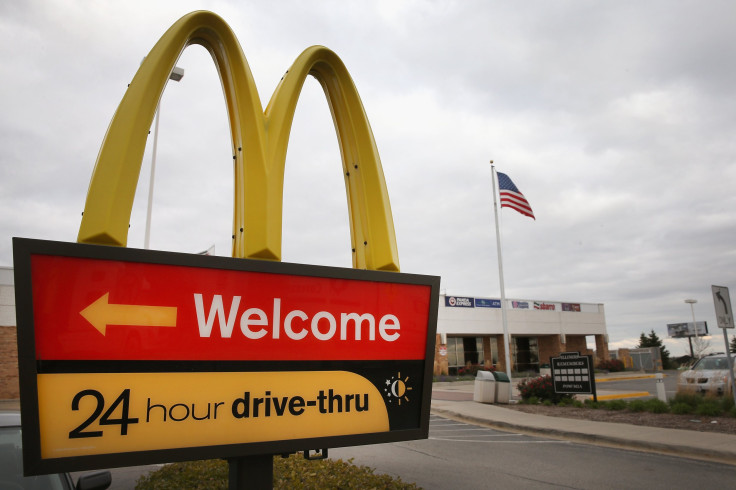 © Copyright IBTimes 2023. All rights reserved.