Mediterranean Migrants Crisis: European Leaders Triple Funds For Patrol Missions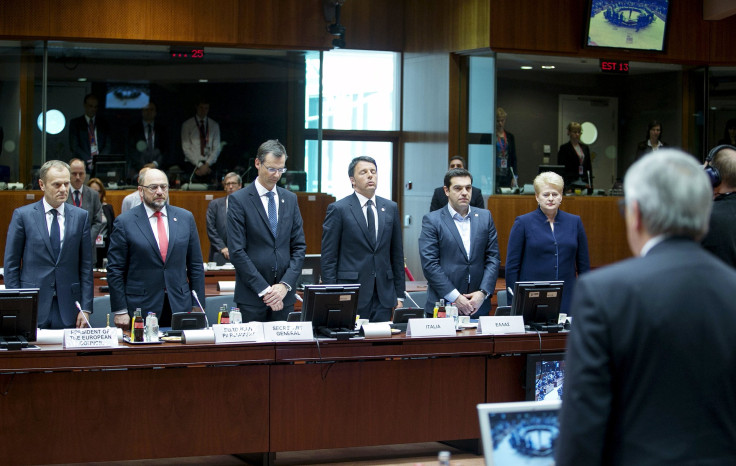 Days after one of the deadliest recorded accidents in the Mediterranean killed nearly 900 migrants attempting to make their way into Europe, European leaders agreed to triple the European Union's funds for search and rescue operations in what has now become one of the deadliest migrant routes in the world. During an emergency summit in Brussels on Thursday, the EU also pledged to "do more" to protect refugees.
"The European Union will help front-line Member States under pressure and co-ordinate the resettlement of more people to Europe on a voluntary basis, and with an option for emergency relocation. For those who do not qualify as refugees, we will operate an effective returns policy," European Council President Donald Tusk said in a statement released after the meeting.
So far, over 35,000 people have attempted to cross the Mediterranean en route to Europe from Africa in 2015 alone. Over 1,700 people have died so far this year, putting 2015 on track to be the deadliest year ever. It is believed that over 40,000 migrants have died in the region since 2000.
"We have agreed to triple the resources available to Triton, our border mission in the Central Mediterranean, and to enhance its operational capability. The mission will continue to carry out its mandate and respond to distress calls where necessary," Tusk said. Tripling the funding to an estimated 120 million euros ($130 million) puts Triton at par with Italy's Mare Nostrum mission that was canceled last year.
In addition, several European nations also pledged additional naval resources during the meeting. The U.K., which has, in the past, called for reduction of naval patrols in the region, pledged a warship, two patrol boats and helicopters. British Prime Minister David Cameron, however, stressed that people picked up in the Mediterranean would not automatically be given refuge in the U.K., according to media reports. Several other European leaders also called on African nations to take responsibility for the migrant crisis.
"We also ask that Africa, the source of the problem, also collectively takes up its responsibility. … Last time I checked Libya was in Africa, not Europe," Dutch Prime Minister Mark Rutte reportedly said.
© Copyright IBTimes 2022. All rights reserved.
FOLLOW MORE IBT NEWS ON THE BELOW CHANNELS