Meet the Entrepreneur Illuminating the Branded Real Estate World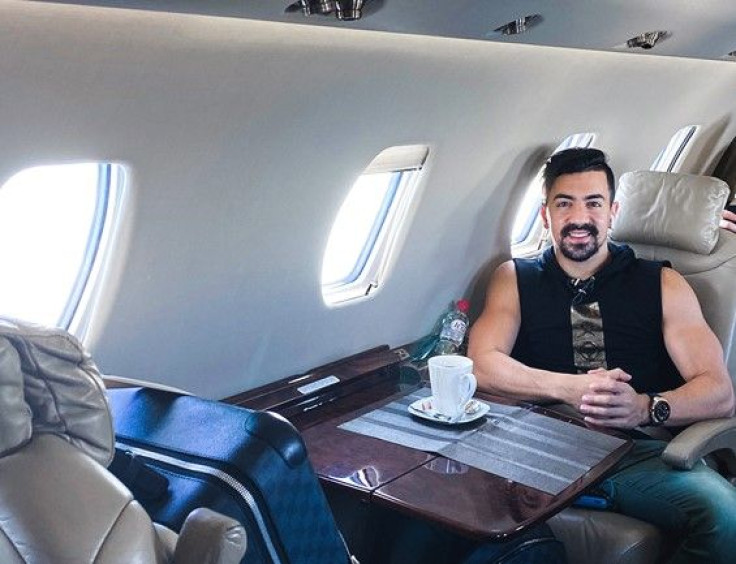 Tom John Or-Paz first began working his magic on branded real estate while at FashionTV, where he created its branded real estate division. Demand for the service, which entails new buildings and established developments being enhanced with eye-catching contemporary art installations, exceeded all expectations, and Light realized he had found his new vocation.
Witnessing the way in which art can transform living spaces and enhance the lives of residents lit a fire in Tom John Or-Paz, inspiring him to found LightArt, a brand dedicated to crafting stunning contemporary works for real estate projects.
His decision to launch a complete art startup has proven timely, as real estate developers seek ways to differentiate new properties, maximize revenue, and boost occupancy. Creating very public art that can increase the value of a development while satisfying residents and stakeholders comes with its own challenges of course. On the one hand, LightArt is obliged to create bespoke works that appeal to existing property owners, but there are also future buyers to consider, whose tastes may be more conservative.
"Every project is first evaluated by our head team to ensure that the artwork chosen is completely suited to the building, its neighborhood, and tenants," explains Light. "Our artwork is created specifically and uniquely for each project and is strategically placed in all common areas of the building. Artwork within apartments is designed and chosen by our team together with the owner of each apartment."
Creativity and Commercial Viability Can Coexist
The commercial benefits of enhancing a contemporary development with complementary art are obvious. But there are also other advantages to doing so that are less easily measured. "Living in a building covered in unique and world class art transforms your living experience to one full of color and life," says Light, who describes his company's installations as forming "a central icon and attraction that gives residents a sense of pride to own an apartment in the project and to bring guests to their home."
The collaborative process starts with LightArt's team of artists and designers devising a suitable theme for each building. While it is the architects who oversee the technical aspect of the design, the artists work closely with them to bring out their creative side, ensuring that the final project is infused with flair.
To help LightArt's installations match the mood of the neighborhood, and align with the aesthetics of that particular area, local artists are enlisted. "Every city and country has different styles and cultures and each project is uniquely created and designed to fit its surroundings," explains Tom John Or-Paz. "Once the genre and design has been chosen and agreed, we sign up the best artist and designers in that genre who will be suited to the project."
For its Tel Aviv project, some of the world's leading street artists were brought in to assist with the urban-street art design that was chosen. With another project, the entire building was made of glass, prompting LightArt to sign up the best glass artists to create designs. Although a contemporary art specialist, LightArt utilizes artists whose work spans contemporary, classical, wood, street art, and modern. This ensures that the final product blends with the building and complements the local area, without overwhelming it.
With each project, LightArt endeavors to secure the best possible artists for the job, but is also on the hunt for talented "unknowns" who have yet to achieve the recognition they deserve. "25% of our artwork is created by unknown artists," says Light. "This gives them an opportunity to create iconic artwork and gives their creations much needed exposure. For one of our projects, we had a 16-year-old artist from Germany create the most amazing piece for us."
Real Estate Market Drives Demand for Bespoke Art
Combining art and real estate creates "electric and magic," insists Light, who believes that branded buildings possess the wow factor that drives sales and draws communities together. He sees shared living experiences, enhanced by bold statement pieces of contemporary art, as the future of real estate development, explaining: "LightArt creates a new way of evaluating an apartment. The artwork, alongside the unique design which the brand brings, creates added value to the project and its buildings."
The LightArt founder cites a Knight Frank report, which found that branded real estate brings an average 30% increase in sale price, as evidence of this. "Branded real estate creates icons in cities and therefore they are very much sought after, which in turn becomes a massive selling advantage above non branded projects," says Light.
Making Buildings Beautiful with Contemporary Art
LightArt's first commission came after teaming up with current CEO Gary Ghozlan. His family are owners of the Dizengoff Center, one of Israel's largest malls, drawing over 1 million visitors a month, and LightArt was brought in to work its magic on their Florentine real estate development. LightArt is now overseeing seven projects in Europe and the Middle East, which are all due to be launched by 2021. After that, there are plans to oversee multiple projects in landmark cities across Europe and the world.
One real estate vertical LightArt has been eyeing with interest is commercial buildings. Tom John Or-Paz has revealed plans to collaborate on designing skyscrapers that have branded office space around the world. There is also talk of LightArt launching its own branded hotel, kitted out in the sort of Insta-friendly installations that are the company's trademark. But first, there are developments to complete across Europe, artists to recruit, and new concepts to brainstorm while flying the flag for branded real estate.
FOLLOW MORE IBT NEWS ON THE BELOW CHANNELS