Meet Glassbreakers, The Startup Trying To Break Silicon Valley's Bro Culture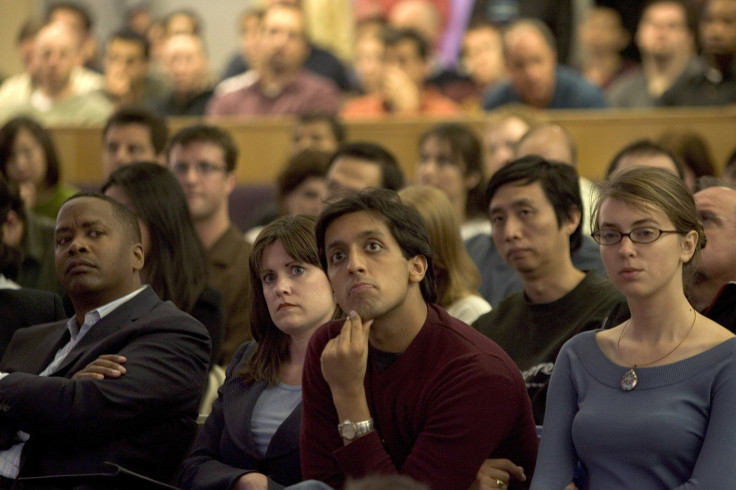 Mark Zuckerberg. Sergey Brin and Larry Page. Steve Jobs. Young men trying to break into Silicon Valley have plenty of role models to idolize and imitate. But other than Yahoo's Marissa Mayer, there haven't many examples for young women to look up to on the way to the top.
Until now.
Glassbreakers is a new startup that aims to connect aspiring women with established female business leaders who have experience in the technology industry. They offer peer mentorship programs for companies that want to promote women while also connecting women in similar fields with similar levels of experience. Co-founders Lauren Mosenthal and Eileen Carey, profiled in the current issue of Newsweek, compared it to a dating service, only instead of matching people by their movie tastes, they identify career goals and professional experience.
"Glassbreakers is a $100 million-a-year opportunity for investors, given how many organizations lack the resources to build mentorship programs but are seeking a solution," Carey said.
Female workers occupy only 30 percent of the desks at Google, 31 percent at Facebook and 37 percent at Yahoo, according to company diversity reports. Out of 350 female entrepreneurs surveyed, Newsweek reported, most said the biggest professional challenge they faced was "lack of available advisers."
CEO Carey previously worked in corporate communications in enterprise software in New York. Mosenthal, who will work as CTO, helped build software in Boulder, Colorado. Both executives relocated to California to start glassbreakers, which is based in the Bay Area.
About 1,500 women enrolled in Glassbreakers even before it launched Jan. 20, but the process has already presented challenges unique to the space Glassbreakers works within.
"Traditional mentorship, established in male-dominated industry, is between very senior and very junior people," Carey told Newsweek. "But the problem for women in the workforce is that there are many more mentees than mentors. Also, the tech industry is changing so fast that women even five or 10 years older may have very little of practical use to share with younger workers."
Then there's the difficulty of raising money from venture capital partners, when 96 percent of those firms are male-dominated. A Babson College study cited by Newsweek found that a mere 2.7 percent of the more than 6,5000 companies that received funding from a VC firm between 2013 to 2011 had female CEOs. The number is even more troubling when you consider that women-led companies earn a 31 percent higher return on investment than those run by men.
Challenges like that are only bumps on the road to a larger success, though, if Glassbreakers can find a footing in the corporate world.
"Our mission is to empower women to break through the glass ceiling together to get over imposter syndrome," Carey said in an interview with Femsplain.com. "We want to build a hyper-connected, supportive workforce. We don't have to do this alone. We can do it together."
© Copyright IBTimes 2023. All rights reserved.
FOLLOW MORE IBT NEWS ON THE BELOW CHANNELS