Meet Roxanne Chalifoux, Villanova's 'Crying Piccolo Girl' At NCAA Tournament Who Became Internet Meme After Loss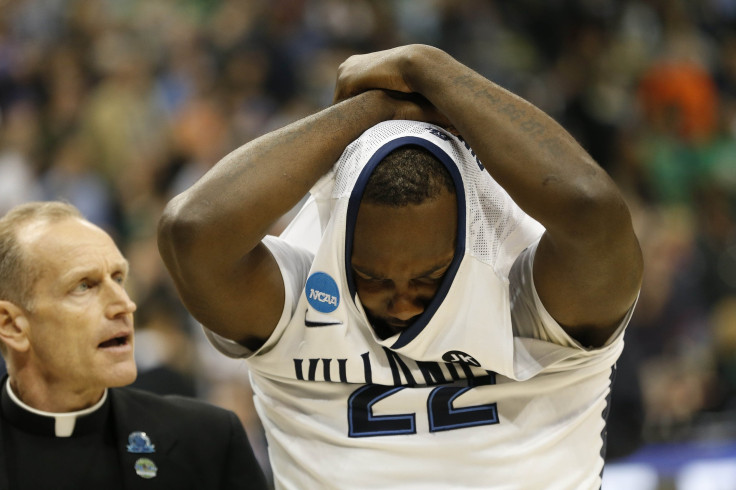 Villanova senior Roxanne Chalifoux became an overnight Internet sensation this weekend, thanks to her tearful reaction to the No.1-seeded Wildcats' loss to North Carolina State Saturday in the NCAA men's basketball tournament. But the school band member, better known as Villanova's "Crying Piccolo Player" or "Crying Piccolo Girl," had no idea that her emotional response would become a viral meme.
"I saw myself on the Jumbotron and all I could think about was that my dad was at the game," Chalifoux said during an appearance Monday on Philadelphia sports radio station WIP. "I didn't want him to see me crying. Little did I know that it was going to end up all over the Internet and that [my dad seeing me crying] was the least of my worries."
Villanova, President Barack Obama's pick to oppose Kentucky in the national championship, lost 71-68 and became the first top seed to be eliminated from this year's NCAA Tournament. As the game ended, television cameras focused in on a crying Chalifoux, who continued to play her piccolo in tune with Villanova's band despite her tears. Her performance inspired countless tweets and Internet memes, including one that superimposed Chalifoux's face on a screenshot from the 1996 movie "Titanic" and another that made it appear as though Vice President Joe Biden had comforted her.
Chalifoux has managed to find the humor in her new-found fame. "I can't even explain it," she told WIP's Angelo Cataldi. "I think it's like such a silly video and then that everyone just thinks it's hysterical. People made it memes, people put Joe Biden with me. Oh my gosh, how can you miss it? I've just been taking it in good spirits. It doesn't bother me, I think it's funny."
Chalifoux is a biology major who plans to pursue a career as an optometrist after she graduates from Villanova, according to Yahoo Sports. She also plays the bassoon and played with the Wildcats' marching band during football season.
© Copyright IBTimes 2023. All rights reserved.