Meet Vivian Schiller: Who Is Twitter's New Head Of News Partnerships?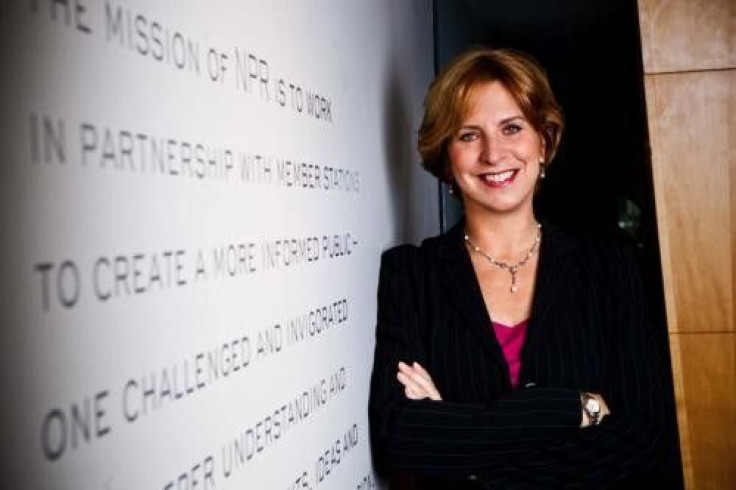 Vivian Schiller will be assuming the post of "head of news partnerships," Twitter announced Thursday.
Schiller aptly tweeted her announcement, "Excited to join @Twitter as Head of News in January. Leaving @NBCNews at year's end. Grateful to my beloved colleagues for 2+ great years." She has been the chief digital officer at NBC Digital News since 2011.
The newly created role will serve as a liaison among news organizations, journalists and Twitter. Schiller will be "responsible for devising and executing the strategies that make Twitter indispensable to newsrooms and journalists, as well as an essential part of the operations and strategy of news organizations and TV news networks."
This announcement comes on the cusp of Twitter's rumored initial public offering date, Nov. 7. Seeking a valuation of $10.9 billion, Twitter announced Thursday it plans to sell its shares at $17 to $20 per share.
How Schiller will fit into or influence Twitter's long-term goals is still unclear. Twitter has become an important gateway for news media outlets in disseminating stories and headlines, using the service to generate website traffic and audience connectivity. Twitter has more than 200 million users, 49 million of them in the U.S.
Schiller has more than 25 years of experience in the news trade, with previous employers including CNN, The New York Times and Discovery. Prior to her NBC gig, Schiller was the CEO of National Public Radio from 2006 to 2011.
During her time at NPR, Schiller saw a fair amount of turmoil; most notably, she terminated then-NPR news analyst Juan Williams amid controversy over anti-Muslim remarks, but stated other reasons for the decision. Williams was quickly picked up by Fox News as a commentator. Her resignation from NPR in 2011 came with its own controversy surrounding disparaging remarks made by a fundraising exec about tea party followers.
Schiller starts at Twitter on Jan. 1.
© Copyright IBTimes 2023. All rights reserved.