Men Better Than Women? Females Are 'Less Intelligent' And 'Must Earn Less,' Polish Lawmaker Says During Gender Pay Gap Debate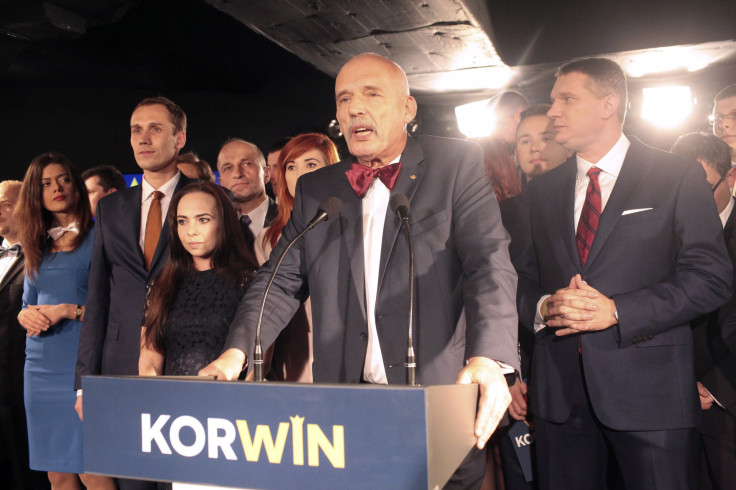 A Polish lawmaker is facing an investigation after he delivered a sexist rant on the floor of the European Parliament, saying women are "weaker, smaller and less intelligent" than men and "must earn less" than their male counterparts. Janusz Korwin-Mikke delivered the remarks Wednesday during a debate about the gender pay gap on the floor of the European Parliament in Brussels.
"Do you know which was the place in the Polish theoretical physics Olympiad, the first place of women, of girls? I can tell you: 800th. Do you know how many women are in the first 100 chess players? I can tell you: not one," Korwin-Mikke said. "Of course, women must earn less than men because they are weaker, they are smaller, they are less intelligent, and they must earn less. That is all."
European Parliament President Antonio Tajani announced on investigation into Korwin-Mikke's comments on Thursday, which could result in a fine or suspension. European Parliament rules say that members are banned from engaging in "defamatory, racist or xenophobic language or behavior."
The 74-year-old lawmaker is one of 51 Polish members of the European Parliament and current leader of the Coalition for the Renewal of the Republic – Freedom and Hope party, according to his bio on the European Parliament website. Korwin-Mikke was elected to the European Parliament in 2014 after declaring himself a monarchist and saying the European Commission building "should be turned into a brothel."
Korwin-Mikke is considered a "non-attached" member of the European Parliament, and is not aligned with any of the legislature's major political parties.
It's not the first time Korwin-Mikke has run afoul of the legislative body's rules. In 2015, Korwin-Mikke was suspended from parliament for delivering a Nazi salute meant to mock German efforts to standardize transportation in the EU. In 2014, he used the word "nigger" while debating European employment policy, prompting widespread condemnation from his colleagues. Korwin-Mikke said he was using the word "negro" and added "I do not see anything wrong in calling a negro a negro."
© Copyright IBTimes 2022. All rights reserved.
FOLLOW MORE IBT NEWS ON THE BELOW CHANNELS