'A Message Aimed At China' — Japan, France, US Plan East China Sea Military Drills
KEY POINTS
Japan calls China's growing maritime activities in the waters surrounding it 'a threat'
Both Tokyo and Beijing lay claim over the Senkaku Islands; Japan has administered the islands since 1972
U.S., France and Japan are forcefully pushing back against Chinese claims over the islands
Japan, France and the United States plan to conduct a joint military drill for the first time around disputed islands in the East China Sea in May, pushing back against China's expansionist claims that have raised geopolitical tensions.
Pierre Vandier, chief of staff of the French navy, made it clear the war games were aimed at China. "This is a message aimed at China," he told the Sankei newspaper. "This is a message about multi-lateral partnerships and the freedom of passage."
The Chinese has laid claims over the Senkaku Islands (known as the Diaoyus in China), much like its Nine-Dash Line in the South China Sea. The drill, to be held on one of Japan's uninhabited outlying islands, will focus on providing relief efforts during a natural disaster, Reuters reported quoting the Sankei.
Japan has administered them since 1972. Tokyo has banned any Chinese gas exploitation (including joint ventures) within the disputed waters, besides protesting against public vessels entering the territorial waters around Senkaku.
But Chinese vessels have repeatedly intruded into the waters for years, irking Japan. In return, Tokyo has stepped up air patrols over the islands. Japan has also not shied away from calling China's growing maritime activities in the waters surrounding its 'a threat.' "We feel fear from the Chinese expanding naval power throughout the Pacific Ocean," Japanese politician Yasuhide Nakayama recently told CNBC.
Intrusions by Chinese Coast Guard vessels into the territorial waters of the islands set a new record last year even as China has built up its military forces in recent years. On one occasion, a Chinese vessel pursued a Japanese fishing vessel, causing a Japanese Coast Guard vessel to place itself between them in order to prevent an interdiction, The Maritime Executive reported.
The Chinese actions in the East China Sea have mirrored the playbook that Beijing has employed in the South China Sea, intimidating littoral states with competing maritime claims with its powerful new ships and aircraft.
Global Times, a Chinese-government backed website, called out Japan in an opinion piece for "aiming to rope in the U.S. and its allies to back its illegal maritime claims and to contain China's development."
In October, tens of thousands of U.S. and Japanese troops had conducted a massive island-landing exercise in the Pacific. Titled the Keen Sword, this was the first big drill since Yoshihide Suga became Japan's prime minister. He has vowed to continue the military build-up aimed at countering China.
The U.S. participation in the exercise is significant in that the U.S.-Japan mutual defense treaty obligates Washington to defend the islands as if they are American territory, the CNN reported.
Suga, in October, had also held a meeting of the 'Quad," an informal grouping of India, Australia, Japan and the U.S., which Beijing has denounced as a "mini-NATO" aimed at containing it.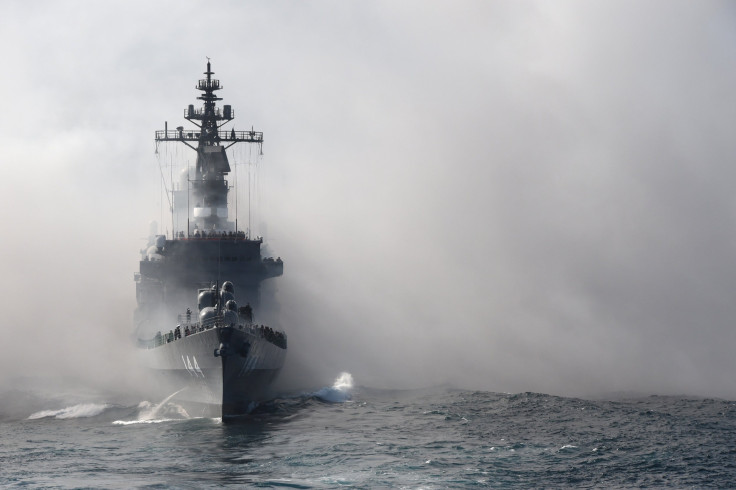 FOLLOW MORE IBT NEWS ON THE BELOW CHANNELS