'Metal Gear Solid 5' Release Date Not Coming Soon, Konami Shoots Down 'Leaked' Image From Comic Con [PHOTO]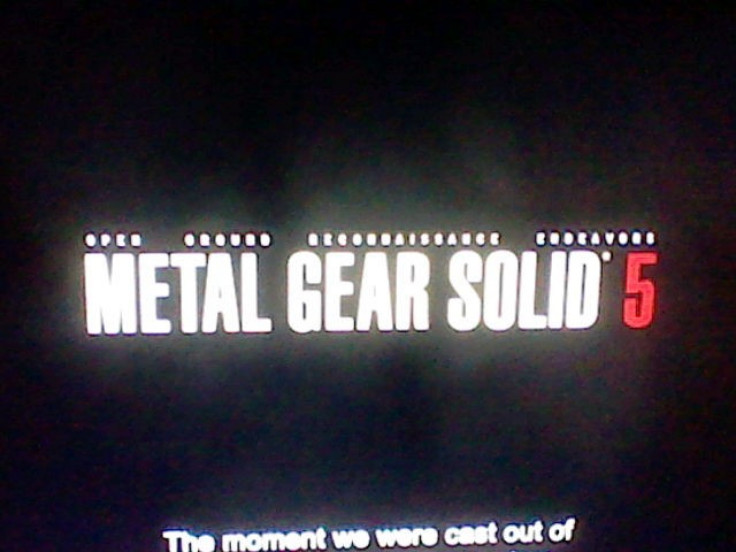 The annual Comic Con festival is usually full of surprises for fans of graphic novels, superheroes, video games and any other nerdy niche. Players of the Metal Gear Solid franchise thought they were in for a surprise when a supposed leaked image revealed the alleged logo and taglines for the game's fifth installment. However, Konami has denied that Metal Gear Solid 5 was revealed at Comic Con this weekend, Kotaku reports.
Seriously, just in case the #pinch #salt hashtags weren't enough-the chap who claims to have set up the fake rumours has been in touch, KonamiUK tweeted.
As ComputerAndVideoGames.com pointed out, a photo said to be taken at the event had reportedly linked Hideo Kojima's Project OGRE with Metal Gear Solid 5. The image, which remains unverified, shows a logo for the game with the words Open Ground Reconnaissance Endeavors written above the title. This fits the OGRE acronym, and could be replacing the series tagline Tactical Espionage Action.
Below the title, a postscript reads: The moment we were cast out of heaven, we became monsters.
Another screen reveals the more text: a paradise is born of the bloodstained Earth, with dialogue unveiled saying the following: Would she have wanted this? one unknown narrator asks. That doesn't matter now, says another, according to The Official Xbox Magazine UK.
Based on the information above, it seemed as if the next Metal Gear Solid could have a post-apocalyptic theme to it. However, since it remains unconfirmed and Konami has denied that the image is legitimate, there is little credibility to this text.
A spokesperson from Konami has declined comment to CVG, but Gears of War creative director Cliff Bleszinski did confirm that Kojima was showing off a secret at Comic Con.
At the end of June Kojima did confirm that the next installment in the series is in production.
About 'Metal Gear Solid 5,' I can tell you two things, he said to French gaming publication IG Magazine. There will be much question of infiltration, espionage and convincing people to give you 'a favor' like in the last 'Metal Gear Solid.'
However, the franchise experts over at IGN don't recall any of these said favors in Peace Walker, speculating that since the interview was translated from Japanese to English it could have been misinterpreted.
It was also announced that the upcoming Metal Gear Solid 5 will integrate the new FOX Engine, as Kojima also revealed at the end of June.
There will be a 'Metal Gear Solid 5' with the new FOX Engine, but what we've shown was not gameplay or anything like that, he said to IG Magazine, referring to the cross-platform engine that was unveiled in 2011. This engine is used for PlayStation 3, Xbox 360 and PlayStation Vita games. It was only a demo that we had developed internally and released because the lighting and interactions with the environment had fooled everyone.
No release date or official announcement for Metal Gear Solid 5 has been made yet. However, back in February, analysts at Japanese investment company Nomura Securities have said that they expect the game to launch during Konami's fiscal year 2014, reported CVG.
© Copyright IBTimes 2023. All rights reserved.