Meteor Shower, Eclipse: Sky Events To Watch Out For In April
KEY POINTS
Sky watchers can expect a meteor shower and partial solar eclipse in April
The April 30 partial solar eclipse will be the first eclipse of the year
Some April sky events also set the stage for events in May
Sky watchers, be alert! Get ready for a busy month as April is full of sky events to watch out for.
April will begin with the new moon, which means sky watchers looking to view cosmic bodies such as star clusters and galaxies will have an excellent opportunity to do so because the light of the moon won't block the view.
On April 16, those who love gazing at the moon will have their turn as the full Pink moon will make its appearance. Since it will appear full from Friday morning (April 15) to early Monday morning, April will have a full moon weekend, thus giving enough time to catch a glimpse of our planet's satellite, according to NASA.
On the evening of April 21 to 22, the Lyrid meteor shower will grace the skies. Although it is considered a "medium-strength" meteor shower, it is known to produce "good rates" of Lyrids and may also produce fireballs. Furthermore, it also marks the end of the months-long meteor shower drought of the year.
Those who couldn't have a chance to spot the Lyrids on the evening of the peak can try it the next evening as there will be less moonlight to dampen the sight. Although this meteor shower can be seen from both the northern and southern hemispheres, the former offers a better view, noted the American Meteor Society.
The first eclipse of the year will also arrive in April, with the partial solar eclipse happening on April 30. This will be visible in South America, parts of Antarctica and also over the Pacific and Atlantic Oceans.
Solar eclipses happen when the moon passes directly in front of the sun. A partial solar eclipse will only block parts of the sun's light. But whether it's a partial or total solar eclipse, those who like to witness the event should wear special eclipse glasses to protect their eyes.
Some of the April sky events also set the stage for some exciting sky events in May. For instance, solar eclipses are always followed by a lunar eclipse about two weeks apart. So, sky watchers can expect a lunar eclipse on May 16.
Comet PanSTARRS (C/2021 O3), which was discovered in the summer of 2021, is also set for its perihelion or its closest approach to the sun on April 21. The comet has been expected to become brighter by late April or early May. If it survives the passage close to the sun, then sky watchers armed with binoculars will have a chance to catch a glimpse of it in May.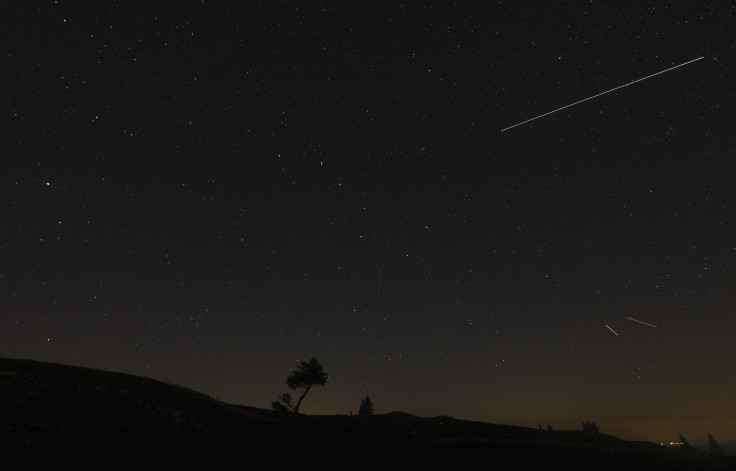 © Copyright IBTimes 2023. All rights reserved.