Mexico Drug War: Local Mayor Found Murdered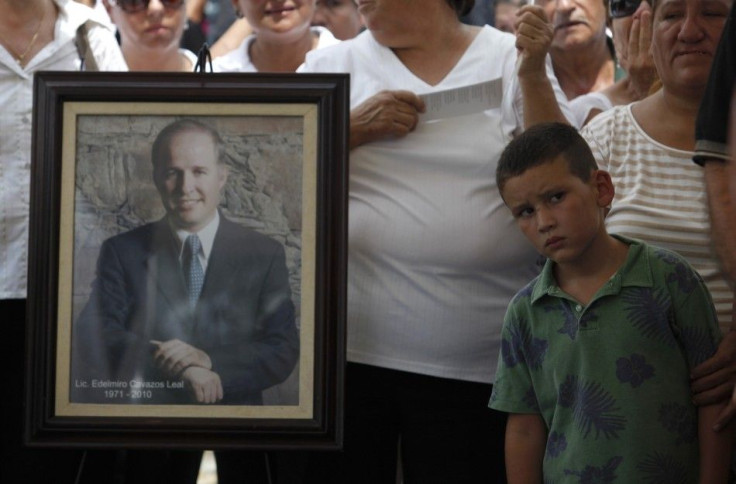 For the fifth time this year, Mexican police have found the body of a local mayor. On Saturday, it was discovered that Jose Eduviges Nava Altamirano, the mayor of a small town in the Guerrero state called Zucuaplan, was kidnapped and murdered, presumably by a drug cartel.
In the morning, we found a corpse in the town of El Pochote, and we confirmed in the afternoon that it was Eduviges Nava, a security official from southern Guerrero state told AFP.
Initial reports indicate that Nava was beaten to death after begin captured near a highway in the southwestern part of the state. Thanks almost entirely to drug-related crime, Guerrero is Mexico's third most-violent state. There were nearly 800 homicides reported there in the first six months of 2011, according to local reports.
Nava was the fifth mayor found dead this year, and the 19th since 2010. According to the Montreal Gazette, a drug cartel might have punished Nava for not cooperating with their group.
One of Nava's personal body guards is still missing. He was kidnapped on Friday.
Zacualpan is a town of about 14,000 people. In the area rival drug gangs La Familia and the Knights Templar are currently battling for power. Last weekend, police found five decapitated heads in Acapulco, also in Guerrero, near a Sam's Club parking lot.
Acapulco is a prime tourist destination for both Mexicans and Americans, but crime has skyrocketed recently as rival cartels vie for turf. Last week, gunmen on the same street where the three bodies were found shot and killed five people in broad daylight, including a state police officer.
Drug-related violence in Mexico exploded in 2006 when the government and President Felipe Calderon launched an offensive against organized crime. Since then, more than 41,000 people have been killed, including civilians, government officials and soldiers.
Recently, government forces have made a number of high-profile arrests. Earlier this month, police captured Jose Antonio Acosta Hernandez, known as El Diego, who is thought to be the leader of the La Linea gang, the enforcement arm of the Juarez cartel in the northern state of Chihuahua.
Acosta, who is a former policeman, admitted to ordering the murders of 1,500 people. He is also thought to be involved with the death of three people with ties to the U.S. Consulate, including a consulate employee and her husband, in 2010.
In June, police captured Acosta's second-in-command. Marco Antonio Guzman Zuniga, who is nicknamed El Brad Pitt, was arrested on charges relating to a car bomb detonated outside a police station last year.
© Copyright IBTimes 2023. All rights reserved.