Mexico Hospital Blast: Babies Found Alive In Rubble After Explosion; 3 Killed, Dozens Injured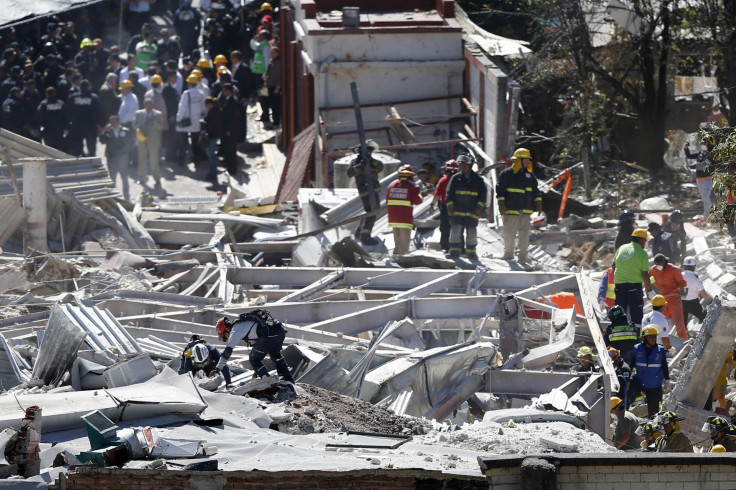 Several babies were found alive in rubble after a gas truck explosion shattered a maternity hospital in the western region of the Mexico City on Thursday, killing one woman and two children, authorities said, according to media reports.
According to Mexico City Mayor Miguel Angel Mancera, a nurse and a child died immediately after the blast, which destroyed about 70 percent of the hospital, media reports said. The city's health minister later confirmed on national television that another child had died while more than 70 people were injured, Reuters reported, adding that rescue workers found several babies under the rubble while digging through the concrete to look for survivors.
Twenty-one babies were injured while nine of those and seven adults were in serious conditions after being sent to other hospitals, The Associated Press (AP) reported, citing a local health official. The blast reportedly occurred at 7:05 a.m. local time (8:05 a.m. EST) when a gas truck was fueling the hospital's tank.
According to officials, a leak in a pipe from the vehicle was believed to have triggered the explosion. The tanker workers had reportedly been struggling to repair the pipe for about 20 minutes.
"The hose broke. The two gas workers tried to stop it, but they were very nervous. They yelled for people to get out," Laura Diaz Pacheco, a laboratory technician, told AP. "Everyone's initial reaction was to go inside, away from the gas. Maybe as many as 10 of us were able to get out ... The rest stayed inside."
President Enrique Pena Nieto reached out to victims through Twitter to give his condolences.
"We are praying for the victims of the explosion in Cuajimalpa, Mexico," Nieto tweeted.
© Copyright IBTimes 2023. All rights reserved.