Mexico's Missing Students: Government Allows Relatives Of The Disappeared To Search Army Bases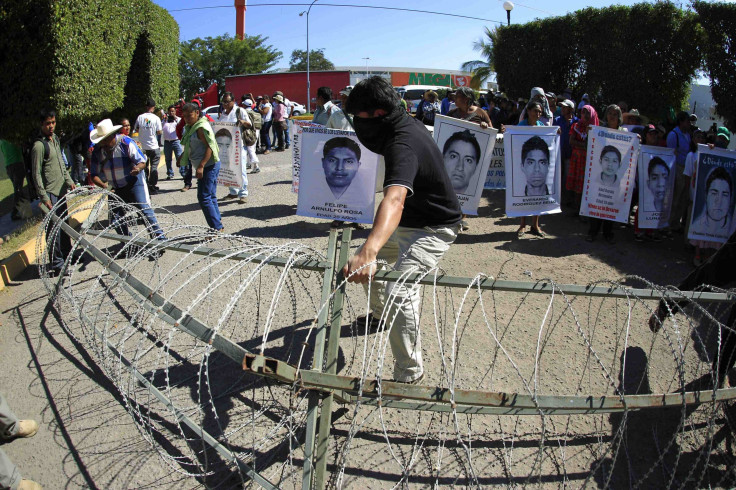 The parents of Mexico's missing students haven't given up the search for their children and are looking through army bases for evidence of their whereabouts. But nearly four months after the students first disappeared, the federal government says it has exhausted all avenues of investigation.
Mexico's government this week said relatives of the missing students could search through army bases if they made a formal request to schedule a visit. The attorney general's office released a notice saying entrance to the bases "has to be made in an orderly manner and with respect for our institutions."
The announcement comes after protesters clashed with police in an effort to storm one military facility Monday. For parents of the students, suspicion has mounted that the army may have been involved with the September 2014 disappearances.
In December, Mexican news magazine Proceso reported that military forces participated in the attack on the students and that the federal government has tried to cover up its involvement. The magazine cited leaked government documents that it said directly contradicted federal officials' explanation of the disappearances.
On Tuesday, the director of Mexico's state criminal investigation agency, Tomás Zerón, said there was no evidence that the military was involved with the missing students and that the government had already "exhausted all lines of inquiry that have emerged during the investigation."
The federal government has maintained that a local drug gang in Guerrero state, known as the Guerreros Unidos, likely killed the students and incinerated their bodies after colluding with local police on the orders of Iguala Mayor José Luis Abarca -- the students were last seen in Iguala. In late 2014, authorities recovered ashes and scattered human remains from a river near the site where the students were last seen and matched the DNA of one bone fragment to one of the missing students, but relatives of the disappeared aired suspicions that the government may have planted the remains.
Mexico's attorney general labeled Abarca and his wife, María de los Ángeles Pineda, as probable masterminds of the operation based on testimonies from arrested gang members and local police officers. Abarca and Pineda both received criminal charges this month, Abarca for his involvement with the disappearances and Pineda for general links to organized crime. But the arrests have done little to quell suspicion and anger across the country as mass protests have railed against the federal government's security policies and collusion between police forces and organized crime.
© Copyright IBTimes 2023. All rights reserved.