Mexico Press Freedom: Attacks On Journalists Surged 80% Under Peña Nieto, Report Finds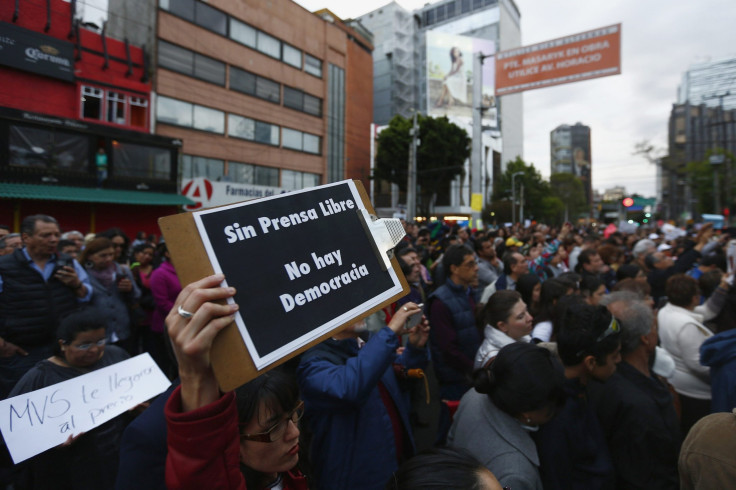 Every 26 hours, a journalist in Mexico gets attacked, according to statistics released this week by a London-based rights organization. That figure is part of a lengthier report detailing intimidations, assaults and killings of media workers in Mexico, which have increased by 80 percent under the administration of President Enrique Peña Nieto, the group found.
The study, compiled by Article 19, an organization dedicated to the promotion of free expression around the world, recorded 656 attacks against journalists in the past two years – 330 in 2013 and 326 in 2015. Last year, there were 142 physical attacks against journalists, along with 53 cases of intimidation or pressure and 45 arbitrary detentions, according to the report. Six journalists also were killed in 2014 while doing their jobs.
The violence faced by journalists in Mexico has been widely documented by rights groups, including Freedom House – which has rated the country "Not Free" in terms of journalist protections – and the Committee to Protect Journalists – which ranked Mexico seventh out of 13 countries with the world's highest rates of unsolved journalist murders.
But the Article 19 report notes that attacks on the press have surged during Peña Nieto's administration compared with that of his predecessor, Felipe Calderon. The group calculated an average of 182 attacks on journalists every year under Calderon's government, a number that grew to 328 under Peña Nieto. The various types of aggression came not just from organized crime groups, but also by government authorities and politicians, the report noted.
The report comes as Mexicans are debating the country's free speech landscape in the wake of last week's firing of well-known reporter and government critic Carmen Aristegui. Her news website, Aristegui News, published an exposé last year on the Mexican first lady's mansion and its potential connections to government contractors, which heaped scrutiny on the presidential couple and eventually forced the first lady to sell her stake in the luxury residence.
Earlier this month, Aristegui's employer, MVS Radio, fired two of her colleagues who had reported on the mansion story, saying they had linked MVS Radio to their promotion of whistleblowing website Mexicoleaks without proper authorization. Aristegui demanded her colleagues be reinstated, and was fired shortly thereafter, with MVS saying it couldn't accept ultimatums from its employees.
MVS has denied that the firing was related in any way to Aristegui's reporting on the presidential mansion, known as the White House. Nevertheless, the controversy has released another flood of criticism against Peña Nieto, who is thought to have had a hand in her dismissal.
"The way in which they escalated this issue makes us think, but we don't have any paper that shows it, that there had been a government intervention or something of the type," Aristegui said last week, according to local reports. "It wouldn't be the first time." The government, meanwhile, has not issued any statements about either Aristegui's firing or the Article 19 report.
© Copyright IBTimes 2023. All rights reserved.