Mexico's First Lady To Sell Controversial $7 Million Mansion Amid Corruption Scandal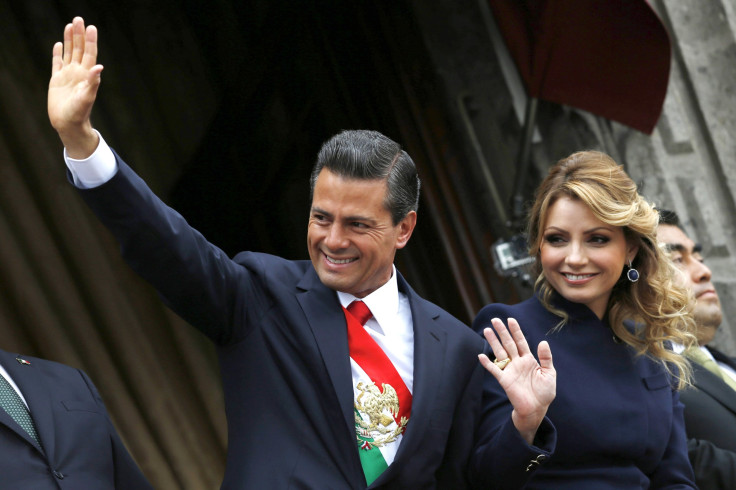 Angélica Rivera, the wife of Mexican President Enrique Peña Nieto, said she would sell her stake in the $7 million mansion that has been at the center of corruption accusations against the presidential couple. Reports surfaced over the past several weeks linking the mansion to a company that won a multibillion-dollar high-speed rail contract earlier this month, although the train deal was abruptly canceled days later.
Speaking in a video message released Tuesday night, Rivera said she didn't want the seven-bedroom personal residence to become a "pretext to offend and defame" her family. "Faced with accusations that have questioned my honor, I want to say that I have nothing to hide, I have worked all my life and thanks to that, I am independent and I have been able to build a livelihood with honesty and work," she said.
Rivera laid out details of her earnings, emphasizing that she had made payments on the mansion with her own money accumulated from years of working as a soap opera star for the Televisa broadcast company. She purchased the residence, known in Mexico as the White House, for $4 million on an eight-year loan at 9 percent interest and had already paid 30 percent of what she owed.
A three-month-long investigation into the mansion's financials by Aristegui Noticias, a news organization run by journalist Carmen Aristegui, found that the home was registered under a subsidiary of Grupo Higa, a company that had won several government contracts while Peña Nieto served as governor of Mexico state. Grupo Higa was also part of the Chinese-led consortium that won a $3.7 billion high-speed rail project in Mexico in early November. Peña Nieto, who was reportedly aware of Aristegui Noticias's ongoing investigation, scrapped the deal just days later.
The allegations over the mansion have further inflamed public sentiment against Peña Nieto, who has been facing months of protests over the disappearances of 43 students in late September. Federal investigators said the mayor of Iguala, a town in southern Guerrero state, sent police to crack down on the students for fear they would disrupt a speech being given by his wife nearby. The police shot at the students before turning them over to local gang Guerreros Unidos, who killed them, burned their bodies and dumped the ashes into a nearby river, according to authorities.
The incident has heightened nationwide anger over the nexus between political officials and organized crime, and the protests have only swelled over Peña Nieto's response. Although the president has publicly acknowledged the gravity of the situation and met with family members of the victims, protesters said he hasn't done enough to curb corruption and impunity. His decision to leave Mexico to attend the Asia-Pacific Economic Cooperation summit in Beijing and the G-20 meeting in Australia last week has only prompted larger and louder demonstrations.
On Tuesday, Peña Nieto suggested that some of the protesters aimed to "generate instability, to foment social unrest," and warned that the government could use force to impose order as a last resort against violent unrest. Protesters have scheduled a national strike for Thursday and called on cities in the U.S. to support the demonstrations.
© Copyright IBTimes 2023. All rights reserved.