Mexico Mansion Scandal Further Inflames Anger Against President Enrique Peña Nieto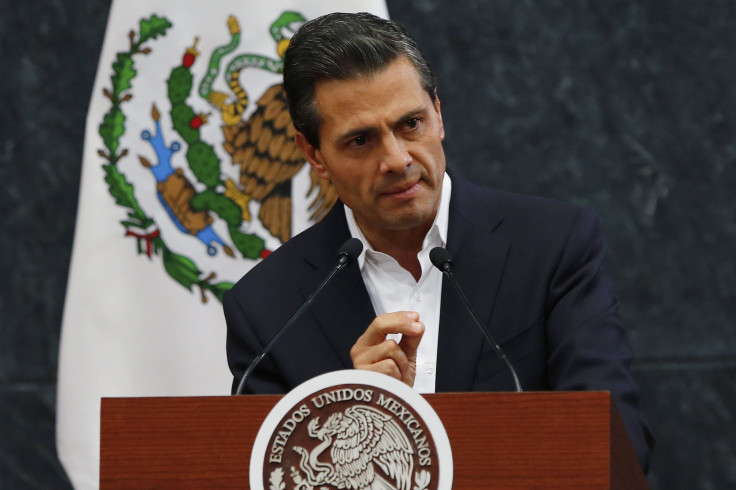 Mexico's President Enrique Peña Nieto is facing another torrent of anger over a report that his personal residence is owned by a member of the consortium that landed a $3.7 billion high-speed rail contract last week. The Peña Nieto government abruptly canceled the contract just days after it was awarded.
The new allegations are adding fuel to nationwide protests against the government over an unrelated but contentious matter, the disappearance of 43 students, who are feared dead.
The new report, published by the website Aristegui Noticias on Sunday, followed several months of investigation into the president's seven-bedroom, $7 million mansion, located in a wealthy, exclusive Mexico City neighborhood. The report found that engineering firm Ingenieria Inmobiliaria del Centro, owned by entrepreneur Juan Armando Hinojosa, bought and owned the residence, dubbed the "White House." First lady Angelica Rivera signed a contract in 2012 to purchase the mansion and had been issuing monthly payments on it, the report said.
Another Hinojosa company, Grupo Higa, owns a construction firm that was part of the Chinese-led consortium that won a $3.7 bid last week to build a high-speed rail system in Mexico. But the deal, acknowledged as one of Mexico's most lucrative public-works contracts in recent memory, came to a sudden halt last week as the presidency cited concerns over disapproval from the Mexican public. The Peña Nieto government was reportedly aware that Aristegui's investigation was going on.
The president and his administration have already come under mounting criticism over their handling of the investigation into the missing students, who disappeared on Sept. 26 in the state of Guerrero. Mexico's attorney general announced last week that the students were believed to be dead, after several arrested gang members confessed to burning their bodies and dumping the remains into the San Juan River. Protesters set fire to the presidential ceremonial palace on Sunday night.
Peña Nieto departed Mexico on Saturday for Beijing, where he is currently attending the Asia-Pacific Economic Cooperation summit.
© Copyright IBTimes 2022. All rights reserved.
FOLLOW MORE IBT NEWS ON THE BELOW CHANNELS