Mexico's Pemex Announces Rise In Death Toll After Oil Plant Explosion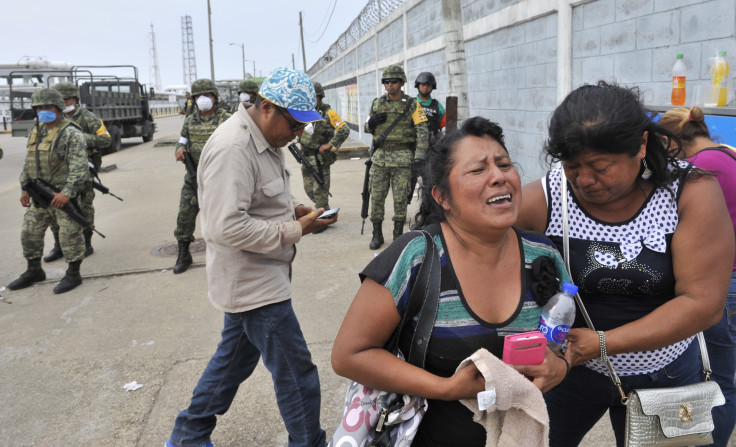 Mexico's national oil company, Pemex, announced Friday that the death toll from an explosion at its plant in Veracruz rose to 24 and added that the figure could rise further. The blast occurred Wednesday at its chlorinate 3 plant and injured 136 people, 13 of them seriously.
The company also said that 19 people remain hospitalized. Pemex CEOJose Antonio Gonzalez Anaya visited the site and said late Thursday during a press conference that the cause of the explosion was a leak. He also added, according to Reuters, that it was not clear why the leak happened but so far it looked like an accident. However, a report by Agence France-Presse citied Anaya as saying at the press conference that the number of people missing reduced to eight from the earlier number of 18.
Ancelma Cordero, 49, whose 21-year-old brother is one of the missing, said, according to the Guardian: "We are desperate because no-one is coming out to show their face," adding: "They (the authorities) told us we were breathing toxins and we should leave."
According to a report by the Associated Press (AP), Pemex said Thursday night that it was prioritizing the safety of those inspecting the plant and added that the teams were gradually able to access more parts of the Mexico plant. President Enrique Peña Nieto also reportedly said that he would visit the region to attend to the victims there.
Rosa Villalobos, who travelled to Veracruz to look for her son, said, according to AP: "What I want is for justice to be done in my son's case, for there to be no impunity," adding: "I'm going to stay here. Even though I have no money, even though I have nothing to eat, I'm staying put."
While the entrance to the facility was blocked by marines, local and municipal police, the air nearby was filled with a sharp odor of ammonia, Reuters reported. The turbines at the plant also streamed gray smoke on Thursday afternoon and most officials were seen wearing blue face masks for protection against the fumes.
The blast occurred at a vinyl petrochemical plant that is a joint venture between Pemex's petrochemical unit and majority owner Mexican plastic pipe maker Mexichem, Reuters reported. The plant also makes vinyl chloride monomer, also known as chloroethene, and used in plastic piping.
The Reuters report added that Pemex operated a larger petrochemical complex, named Pajaritos, where the plant was located. The company is also currently struggling after a series of safety disasters, while it tries to tackle the impact of low crude prices.
In February, a fire at the same plan killed a worker while in 2015, a fire hit its Abkatun Permanente platform in the oil-rich Bay of Campeche, affecting the company's output and costing it up to $780 million, Reuters reported. In 2013, a blast at its Mexico City headquarters killed at least 37 people while in 2012 another fire at the Pemex natural gas facility in northern Mexico killed 26 people.
© Copyright IBTimes 2023. All rights reserved.