MH17 Crash Conspiracy Theories: Strange Coincidence Of First, Last Flight Dates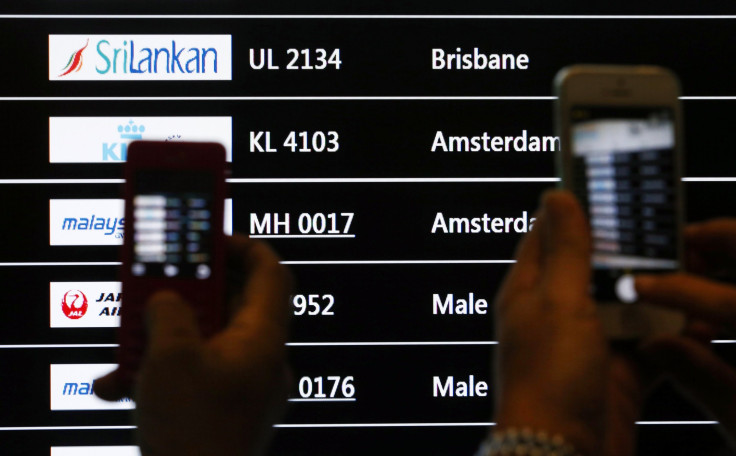 Updated at 7:28 p.m. ET, July 19, 2014
File this under "unsettling coincidences": Malaysia Airlines Flight MH17, a Boeing 777, made its first flight on July 17, 1997, 17 years ago to the day before it crashed, according to a tweet from the New York Times' C.J. Chivers.
That detail, at a time when the world is hungering for any new information about the passenger jet that crashed in eastern Ukraine around noon local time Thursday, will no doubt attract the attention of numerologists and conspiracy theorists, if only because there are so many 17s and 7s: Flight MH17, a Boeing 777, first flew on 7-17-97 and crashed 17 years later, on 7-17-14.
Chivers attributed the date of the plane's first flight to an unnamed "aviation official."
Chivers late tweeted the supporting document that listed the plane's first flight.
Given the enduring mystery of Malaysian Airlines Flight 370, which disappeared over the Indian Ocean on March 8 and has still not been found, any curious detail about MH17 will be magnified, although the crash site itself is known and investigators will presumably have access to its black box data.
There is also the mystery of Malaysia Airline Flight 653, which crashed on Dec. 4, 1977, after a reported hijacking, the details of which are still unknown.
Whatever information emerges about MH17 will likely provide fodder for speculation. Late Thursday, RT.com reported that MH17 was following almost the exact route that Russia's President Vladimir Putin's jet had traveled shortly before the crash, according to Interfax news agency reports.
RT.com quoted an unnamed source who reportedly told Interfax, "I can say that Putin's plane and the Malaysian Boeing intersected at the same point and the same echelon. That was close to Warsaw on 330-m echelon at the height of 10,100 meters. The presidential jet was there at 16:21 Moscow time and the Malaysian aircraft - 15:44 Moscow time... The contours of the aircrafts are similar, linear dimensions are also very similar, as for the coloring, at a quite remote distance they are almost identical."
Putin was on his way from Brazil, where he attended the BRICS summit, to Moscow.
Speculation that Putin's plane may have been the intended target was later discounted. The U.S. government said the plane was brought down by a Russian-made surface-to-air Buk missile, based on evidence that such a missile system had been tracking the plane before it crashed, and attention turned to pro-Russian separatists in the vicinity of the crash site. The Ukrainian government later released a purported transcript of a conversation between separatist rebels in which they acknowledged -- to each other -- having shot down a Malaysian Airlines passenger plane.
In all likelihood, speculation over MH17 will continue regardless of what officials eventually conclude. The crash of TWA Flight 800 off the New York coast in 1996 is still being debated, though the National Transportation Safety Board concluded the plane went down due to a fuel tank explosion, likely caused by an electrical short-circuit. Conspiracy theorists continue to speculate that the plane was brought down by an errant U.S. Navy missile test or a terrorist missile or bomb.
And here's another curious detail: July 17 is also the date that Flight 800 went down.
Follow Alan Huffman on Twitter @alanhuffman1
© Copyright IBTimes 2023. All rights reserved.