MH17 Crash: Kremlin-Backed Rebels Seized Soviet Buk Missile From Ukrainian Base Only Weeks Before Malaysia Airlines Tragedy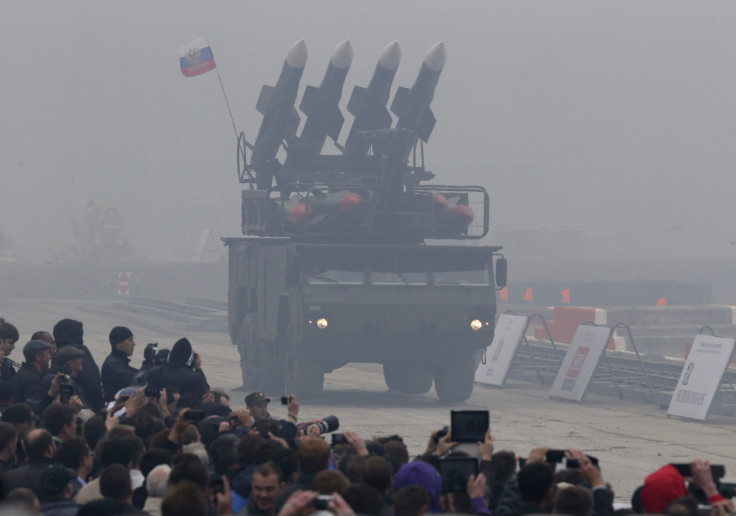 Just three weeks before the tragic crash of Malaysia Airlines Flight MH17 killed all 298 people aboard, pro-Russian rebels seized control of a Ukrainian anti-aircraft installation where the missile that may have shot down the plane was stored.
The Voice of Russia, a Kremlin-funded radio outlet, bragged on June 29 that the People's Republic of Donetsk, a self-proclaimed nation within Ukraine that has conducted armed raids on military buildings along the border region of Ukraine and Russia, assumed control of an A-1402 military base. The capture followed a series of incidents in which pro-Russian forces seized control of Ukrainian military facilities.
According to the Voice of Russia, an unnamed military official told RIA Novosti, another state-funded media outlet, that the base was "an anti-aircraft missile force facility equipped with Buk mobile surface-to-air missile systems."
There has been no official confirmation that the plane was indeed shot down, yet unnamed American officials told the New York Times they suspect a surface-to-air missile, either an SA-11 or SA-20 (both Russian-made), was the cause of the crash.
News reports published in the immediate aftermath of the disaster cited accounts from witnesses who said that the unpredictable rebels have targeted planes and other aircraft in recent days. Just days before, Ukraine claimed that the Russian air defense apparatus built up along the border or pro-Russian separatists were responsible for downing two Ukrainian military aircraft.
Speculation a missile was behind the crash heightened when an adviser in Ukraine's interior ministry, Anton Gerashenko, asserted on Facebook that the plane was flying at 10,000 meters (33,000 feet) and thus out of reach of the shoulder surface-to-air missiles rebels are known to possess. Gerashenko also claimed that the missile was fired by a Russian-built Buk missile launcher, one of which was seen by Associated Press reporters earlier Thursday not far from the site of the crash.
The People's Republic of Donetsk has denied any involvement in an attack, saying their weapons are unable to reach heights past 10,000 feet and that the Ukrainian government was responsible.
The International Business Times reported Thursday that the Buk is better known in the West as either an SA-11 or SA-17 and can reach heights of 25,000 meters. It is easily capable of striking a plane of MH17's size, with the New Republic reporting that planes flying as high as 72,000 feet are vulnerable to Buk missiles (or, as NATO calls them, "Gadfly") missiles.
The video below shows a Soviet SA-6 Gainful, an earlier version of the Buk missile, in action:
This video was posted Thursday by a Russian YouTube user named EuroMaydan and purportedly shows pro-Kremlin vehicles transporting Buk missiles from Torez, Ukraine, to Snizhine.
The Buk was developed by the Soviet Union in 1979 and remains widely used throughout the former Soviet states – Ukraine included. Coincidentally, Russian media reported in April that Malaysia was interested in acquiring a Buk-M2E surface-to-air missiles from Russia, among other weapons.
Last month Gen. Philip Breedlove, the head of U.S. European Command, told reporters at the Pentagon that the Russian military was ferrying heavy, anti-aircraft weapons to pro-Kremlin rebel groups fighting for control of the border regions. He also explained that Russian forces were training groups fighting in eastern Ukraine.
An International Business Times source in Moscow said there is "maybe half a degree of separation" between separatist groups and the Russian military, as a number of the prominent separatists have had long histories in Russian security services.
"Most likely weapons go 'missing' from some Russian arms depot and end up in the hands of the separatists and the Kremlin looks the other way," the source added, wishing to remain anonymous. "It's only slightly less likely that the support is direct."
© Copyright IBTimes 2022. All rights reserved.
FOLLOW MORE IBT NEWS ON THE BELOW CHANNELS