MH17 Debris Shows Shrapnel Pattern Consistent With Surface-To-Air Missile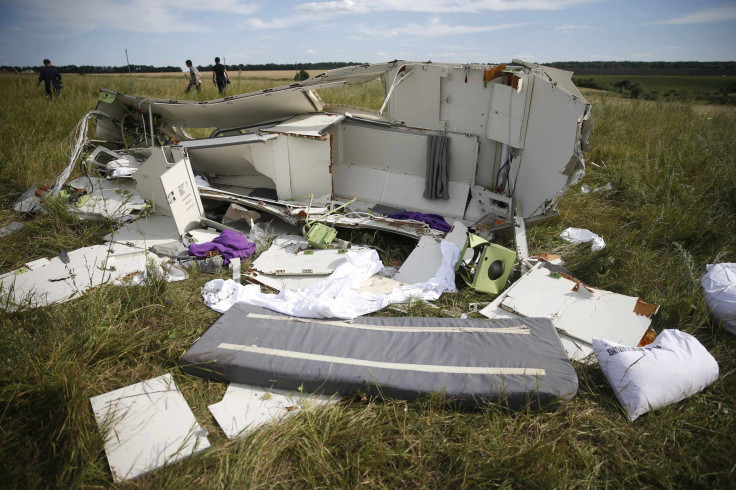 Hole patterns on debris from Malaysia Airlines Flight MH17 downed over eastern Ukraine last week indicate it was hit by a surface-to-air missile, experts told the Washington Post Monday.
Jane's Military Capabilities Manager Reed Foster said in an email the holes are "relatively uniform in size, consistent with patterns exhibited by fragmentary warheads" detonated near their targets. He said the missile likely was detonated 50 feet away to cause maximum damage.
Western experts have suggested MH17, which was carrying 298 passengers and crew, was hit by the SA-11 or Buk M1 missile systems.
Numerous pictures of debris were posted on Twitter and the widespread damage to the fuselage and wings make it unlikely the plane was hit by an air-to-air missile, the Post said.
"There are historic examples of civilian aircraft surviving air-to-air missile engagement, but not of surface-to-air engagements, presumably due to the higher explosive yield/blast-wave as well as significantly more fragmentary materiel," Foster said.
James Hackett, a senior fellow for Defense and Military Analysis at the International Institute for Strategic Studies, said investigators will need to recover a piece of the warhead to make a definitive determination.
Debris from the Boeing 777 was spread over 10 square miles.
"I have seen a photograph of the floor structure of the airplane, torn apart at the metal structural ties, capable of withstanding many tens of thousands of pounds of force, resting in a field in rural Ukraine," Robert Goyer, editor-in-chief of Flying Magazine, wrote in Time magazine. "The section in question weighs around 10,000 pounds. It's not the kind of component that breaks off and flutters away. …
"The only explanations that make any sense given the widely scattered wreckage and the degree to which the airplane came apart are that it was hit by a missile -- the working theory among authorities now -- or that a bomb went off inside the airplane."
© Copyright IBTimes 2023. All rights reserved.