Is Mia Khalifa A Feminist? Lebanese Porn Star Divides Arab World
Lebanese Porn Star Divides Arab Feminists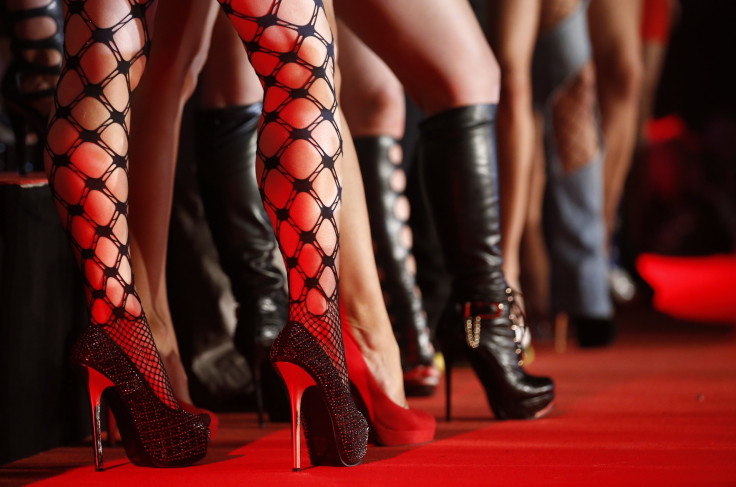 Lebanese-born porn star Mia Khalifa ignited a firestorm of controversy this week among Arab feminists, some of whom suggested that the performer is helping to perpetuate sexism and oppression in the Arab world and others who proclaimed Khalifa a feminist who could help defy patriarchy in the region. While porn has always been a controversial subject among feminists, there is an added sensitivity to the subject for many people in Arab countries where porn remains extremely taboo, especially when it features religious and cultural symbols.
Khalifa, who has the first lines of Lebanon's national anthem and the cross of the Lebanese forces tattooed on her body, has performed in an Islamic headscarf, or hijab, a fact that has sparked widespread anger. The 21-year old performer, who moved to the U.S. when she was 10 and is currently based in Miami, gained notoriety after being ranked the No. 1 adult actress by the porn site Pornhub and is thought to be the first porn star to openly declare her Lebanese nationality. The majority of the indignation against Khalifa has been misogynistic in nature, with some posting death threats against the actress.
The outrage in Lebanon about Khalifa's performance stems from her decision to flout patriarchal norms, an act that makes Khalifa a feminist, said Fida Afiouni, a professor at the Olayan School of Business at the American University of Beirut whose research focuses on gender in the Arab Middle East. "Mia is definitely a feminist, " said Afiouni. "She willingly chose her occupation.... Being a porno star is her own feminist expression and a means of asserting control over her sexuality. I believe that it is this assertion of control over her sexuality that is driving people crazy in Lebanon, as this is a blatant defiance to the predominant patriarchal structures."
This view is not shared by others, who view Khalifa's notoriety as a major setback for the causes Arab feminists are trying to champion, with some arguing that she has helped to perpetuate the exploitation of women that is widespread in Lebanon. Watching Khalifa make global headlines "felt like I had traveled for months, and just as I was nearing my destination, someone used my passport to wipe their ass, undoing all my hard work and sending me back to square one," wrote self-proclaimed Lebanese feminist Juliana Yazbeck on Monday. One Twitter user remarked that Khalifa's rise was "the worst thing that could happen to Lebanese feminism."
Yazbeck suggested that the argument that Khalifa is promoting sexual liberty appears to be getting the most support from the so-called "liberal" male population of Lebanon, who have their own agenda. "After all, the more sexual liberty Lebanese women find, the easier it will be for the average Lebanese male youth to copulate," she said. This view was echoed by popular Middle East satirical website the Pan-Arabia Enquirer, which published an article Wednesday entitled "Teenage Male Feminists in Lebanon Come Out in Support for Mia Khalifa's 'Personal Freedoms.'"
Others have noted that Khalifa's performance has played into insidious systems of oppression that continue to subjugate Arab women. "The abundant eroticism from which Mia profits comes from the idea of 'conquering' the mysterious, strange, different, exotic brown woman," wrote Mira Abouelezz, for the blog Muslim Girl. "Mia, with her bare Arabic tattoos and hijab acts, is an extension of living, breathing orientalism -- its oppressive message existing even in the realm of power and dominance in the porn industry." Orientalism, the system of ideas that rationalizes Western oppression of Arab countries, is a subject many Middle Eastern feminists have taken issue with because its legacy is seen as contributing to the dehumanization of Arab women.
Despite this context, Khalifa's prominence could still help women in Lebanon and throughout the region, argued Afiouni. "I think that Mia's courage will inspire other women to be more vocal in their struggle for equal opportunities," she said. "I do hope that this uproar will be a wake-up call for women in the region to rally against all expressions of patriarchy within the private and public sphere, such as domestic violence, sexual harassment, unequal pay, occupational segregation, and any other forms of discrimination against women."
Lebanon is often seen as one of the most socially liberal Arab states, but women's rights advocates there have struggled with a number of issues, including the passage of a law that will adequately address the major problem of domestic violence in the country. Women in neighboring countries such as Egypt are also fighting against what has been called a "sexual harassment pandemic," with a staggering 99 percent of Egyptian women reporting to have experienced the problem. Meanwhile, women in Gulf countries such as Saudi Arabia fight for even basic personal freedoms, such as the right to drive and travel without a man's permission.
Given the number of issues that are faced by women in the region, some are skeptical that the uproar over Khalifa is relevant to Arab feminism. "I don't think it has an impact on what Arab women are fighting against: poverty, war, job discrimination, sexual harassment," said Susan Muaddi Darraj, an associate professor at Harford Community College in Maryland who has written about Arab feminist issues.
That doesn't mean Khalifa should become a target, said Frances S. Hasso, an associate professor of women's studies at Duke University in North Carolina and the editor of the Journal of Middle East Women's Studies. "I do think feminists should defend Khalifa or at least not get distracted by respectability concerns, which are usually used to control women and men, and not only those who charge for sex work," she said in an email.
Khalifa herself has dismissed much of the controversy, telling the Washington Post that she "hates" the word feminist in an interview Tuesday. "Women's rights in Lebanon are a long way from being taken seriously," she said, "if a Lebanese-American porn star that no longer resides there can cause such an uproar."
© Copyright IBTimes 2022. All rights reserved.
FOLLOW MORE IBT NEWS ON THE BELOW CHANNELS