Miami Heat News: Ray Allen Introduced, Address Rondo Relationship, Reasons for Leaving Boston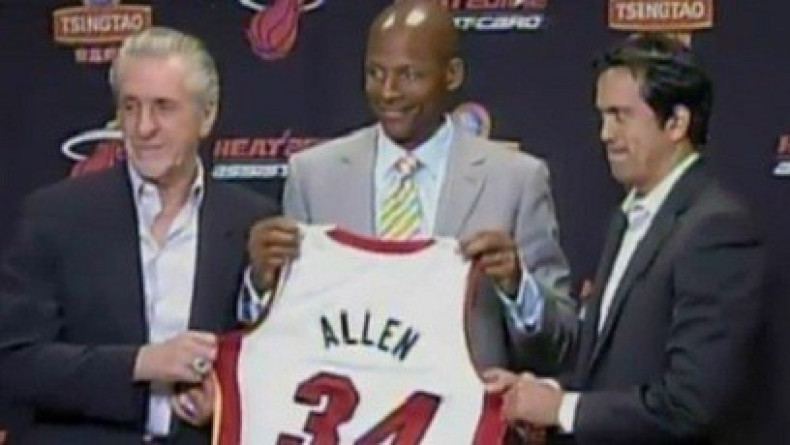 Ray Allen was introduced by the Miami Heat Wednesday afternoon in a press conference at the AmericanAirlines Arena, and finally addressed the reasons he chose to leave Boston behind.
In the days before and especially after Allen's signing with the Heat rumors circulated about friction with Rajon Rondo, Allen's frustration with taking a smaller role in the offense, and his anger at being replaced by Avery Bradley in the Celtic's starting rotation.
Allen was largely evasive in the press conference, saying only, It's a step process. You try to figure out what's best for your family. And here I am, about his decision to leave Boston.
When pressed on his relationship with Rondo, and any effect it had on his departure, Allen again claimed that was an incorrect perception.
I can't say that it factored into my decision. As teammates, we were brothers. We have differences. We all have differences. That's all part of who we are as individuals. At the end of the day we have to buy into what the coach believes is best for us, Allen said.
He even spoke with understanding about the anger that has flowed from a certain segment of Celtic's fans about his departure to the hated Heat.
I've given so much not only on the floor but off the floor. I think there's a sense of sadness and hurt among them. We feel that as well as a family. That's understandable. We're still part of that community. We're still in New England. That's not going to change that, he said.
Allen said that his teammates, especially Kevin Garnett, wanted him to stay.
They were disappointed. They really wanted me to come back. We won a lot together in five years. It's a lot of basketball and a lot of time spent together. They'll like not having me around because they won't have to pay me anymore when I beat up on them on the golf course. ... They're still friends of mine forever, he said.
In Miami, Allen will probably not crack the starting lineup, but he can be a key scorer off the bench for the Heat. Allen also figures to be a part of the rotation for the Heat at the end of the game when his excellent outside shooting might turn close games.