Miami Tennis: Watch Live Stream Online; Djokovic Vs. Murray In Sony Ericsson Open Men's Final, Preview, Prediction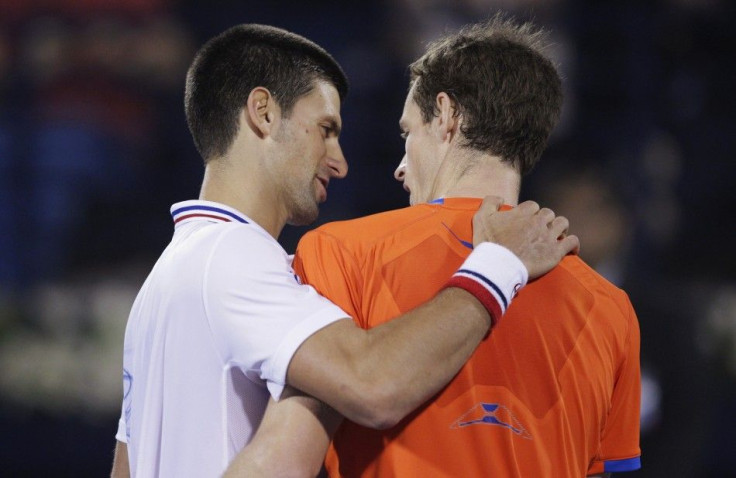 When and Where: The ATP Masters 1000 Final gets under way in Miami at 1 p.m. Sunday ET. A live stream will be available through the tournament website, with a subscription to TennisTV.com. Coverage will also be on CBS.
Preview: Fatigue should certainly not be a problem for Andy Murray when he takes the court in the final of the ATP Masters 1000 event in Miami on Sunday.
The Scot has been in the unusual position of twice having his opponents pull out of a match before it had even begun. First it was Milos Raonic in the third round and then came the news before Murray's highly anticipated semi-final with Rafael Nadal that the Spaniard could not play because of a knee injury.
And, despite the withdrawal giving Murray a place in the Sony Ericsson Open final, he was disappointed not to get the opportunity to test his progress under new coach Ivan Lendl against Nadal.
I have been working with Ivan now for a couple of months, on certain tactics that would work against Rafa, Novak [Djokovic] and Roger [Federer]. It would have been nice to see whether or not those things were working, Murray told the Guardian.
But Murray will get the chance to put those new tactics to the test when he takes on long-time rival Djokovic in Sunday's showpiece.
The pair, born just seven says apart, have enjoyed many a battle since arriving on tour together as the two most talented players of their age group.
We grew up together, Djokovic said after his semi-final win over Juan Monaco, according to the ATP Tour website. We know each other really well. We have been rivals since and good friends off the court. It's going to be a good match.
While Djokovic had the better of their early meetings, Murray has won five of the last eight. Yet when it really matters, Djokovic has had the beating of the world No. 4.
The two played out a classic match in the semi-finals of the Australian Open when it looked like Murray might finally get a grand-slam victory over Djokovic, before the world No. 1 pulled out the win in a dramatic fifth set.
But the Scot will take encouragement from that match as well as his win the last time the pair met in the semi-final in Dubai.
Murray's working relationship with coach Lendl has brought him seemingly greater mental stability on court. It is that frailty in his game to date that has arguably prevented Murray from being classed at the same level as Djokovic, Nadal and Murray.
Prediction: There is just a sense that Djokovic will attempt to tailor his form this year more to making sure he is at his absolute peak heading into the majors.
As incredible as last year was for him, it is hard to imagine anyone going on a streak like that again. And, while Djokovic is still playing phenomenally, there perhaps isn't quite that air of invincibility heading into every match as there was for long periods in 2011.
Murray has shown that he has the capabilities to beat Djokovic, albeit not yet in the majors, and the 24-year-old will chomping at the bit to get on court after his semi-final with Nadal was called off.
If Murray can assert his game early on Djokovic, he has a great chance of claiming the title in Miami for the second time.
Murray in three sets.
© Copyright IBTimes 2023. All rights reserved.