Michelle Obama, Muslim Girls Controversy: Conservatives React After 'Your Story Is My Story' Comment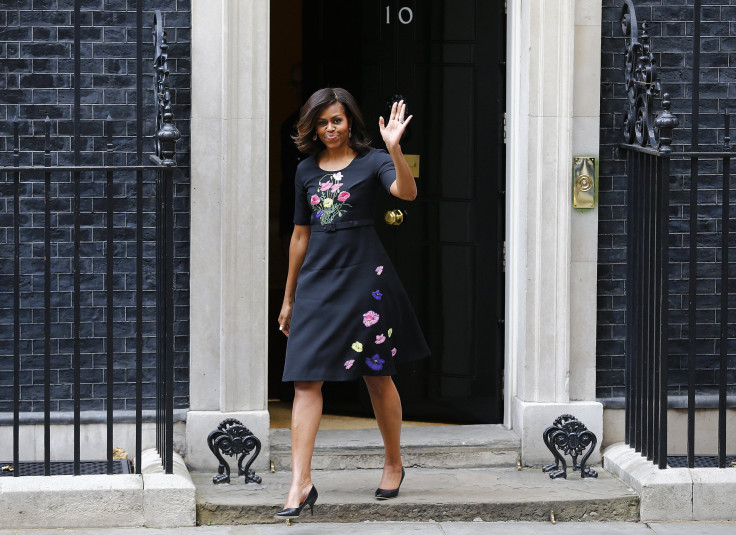 Michelle Obama compared her struggle as a black woman to the challenges faced by Muslim women while visiting a school for inner-city girls in London Tuesday. The remarks were deemed controversial by some conservative critics of the Obama administration, who slammed the first lady for bashing the United States while overseas.
Obama reportedly struggled to keep from crying while giving the speech at the Mulberry School for Girls in London's Tower Hamlets, the Mirror reported. The school is located in a low-income borough where more than 70 percent of students receive free school meals, the Guardian reported.
"Girls like you inspire me and impress me every single day," she said. "When I look out at all these young women, I see myself. In so many ways, your story is my story."
Obama visited the inner-city school during her two-day trip to London, where she also met with Prince Harry and was expected to meet with Prime Minister David Cameron. She traveled with her mother and two teenage daughters, Malia and Sasha.
During the speech, Obama recounted her childhood in a working-class neighborhood on the South Side of Chicago. She also alluded to the discrimination many young Muslim women encounter in the United Kingdom. "Maybe you see the news and see people talking about your religion and wonder if anyone will ever see beyond your headscarf," Obama said. "I see a room full of surgeons and business leaders and barristers. I see women who are going to win elections."
A recent YouGov poll found that British people generally associate Muslims with certain negative terms more often than positive ones. At the top of the list were the 12 percent of respondents who linked the word "Muslim" to the phrases "terror," "terrorist" or "terrorism," the Telegraph reported.
Obama's speech won over many students, local media reported. "I think it was when she was talking about her upbringing and that she'd had a difficult time. It shows how hard work can go a long way and result in amazing things. Her passion got to us all because she understands the struggles we face," said Tahira Miah, 18.
But conservative critics lashed out after the comments. "Obama's whole line of reasoning is filled with lies. The fact is, these Muslim girls are not being held back by hateful white people who stand against Islam. These girls are held back by Islam itself," wrote one blogger.
People also reacted to the speech on social media:
© Copyright IBTimes 2023. All rights reserved.