Microsoft Becomes Latest Tech Firm To Put Social Issues On The Front Burner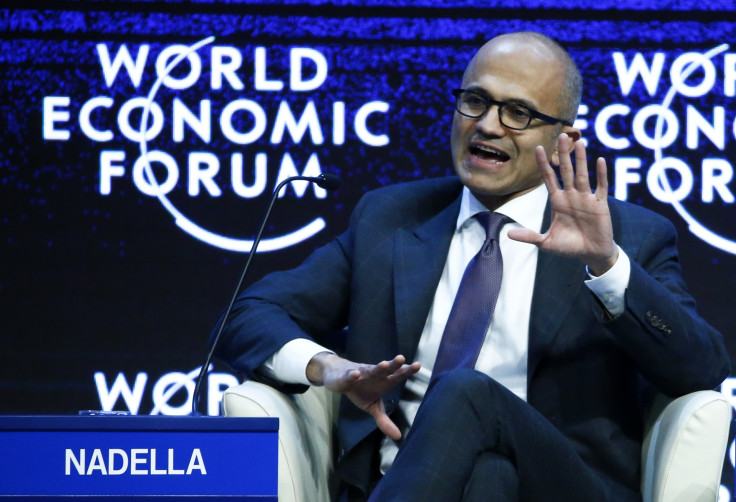 The technology industry has been driving the U.S. economy for years. Increasingly, it's been wielding the resultant clout for a new kind of purpose: social change.
This week, the Microsoft Corp. announced it would no longer do business with contractors that don't give employees at least 15 days paid leave a year. The mandate is just for suppliers that employ more than 50 people in the U.S., so it likely will directly affect only a few thousand workers. But the message is still clear.
"Over the past year, there has been increasing debate about income inequality and the challenges facing working people and families," Microsoft General Counsel Brad Smith wrote in a blog post. By guaranteeing paid time off, the company and its contractors can expect a happier, healthier and more productive workforce, Smith said.
The move catapults the Redmond, Washington-based Microsoft into the ranks of companies attempted to use their influence as a force for change by taking the lead on social issues, some of which are important to employees or customers.
"A lot of companies are recognizing it's a good idea from a business perspective because in this case you don't want people to be coming into work sick. That can create a lot of issues in a workplace where someone isn't getting paid when they don't work," said Paula Brantner, executive director of Workplace Fairness, a nonprofit organization focused on promoting employee rights headquartered in Silver Spring, Maryland. She indicated the tech industry also may wish to avoid the bad publicity that's been heaped on the likes of Wal-Mart Stores Inc. for supposedly driving workers' wages down.
"It's an issue a lot of people have been organizing around," Brantner said. "I think companies like Microsoft can be industry leaders and set the standard and use stuff like this to attract the best employees."
Microsoft's announcement came on the same day Marc Benioff, chairman and CEO of the cloud-computing company Salesforce.com Inc., took to Twitter to announce his firm would cut its exposure to Indiana because of a recently enacted law in the Midwestern state:
Benioff said San Francisco-based Salesforce.com is being "forced to dramatically reduce our investment" in Indiana because of widespread outrage over the Religious Freedom Restoration Act, a new law that could make it possible for businesses to turn away customers based on their sexual orientation.
Benioff's anger is a big deal for Indiana because a couple of years ago his company agreed to purchase the Indianapolis-based firm ExactTarget for $2.5 billion. Indianapolis has hosted important customer events, bringing tens of thousands of people to the city and injecting millions of dollars into its economy. Those kinds of events will be canceled for the foreseeable future, he told Re/code.
"We can't bring our customers or our employees into a situation where they might be discriminated against," Benioff said. "We have a large number of employees and customers who would be impacted dramatically by this legislation ... I'm really just advocating on their behalf."
Whether more companies will adopt socially minded mentalities is impossible to predict, but Microsoft and Salesforce.com are hardly the first firms to advocate for workers who appear to be at a disadvantage in certain jurisdictions.
Apple Inc. has been at the forefront of the corporate social-responsibility movement since CEO Tim Cook took over for Steve Jobs in 2011. Cook announced this week that he plans to donate his personal fortune of $785 million to charity. He's been an outspoken proponent of lesbian, gay, bisexual and transgender rights, and last year he told his company's investors who deny that climate change is a man-made problem to "get out of his stock."
"We do things because they are right and just, and that is who we are," Mashable quoted Cook as saying. "That's who we are as a company ... when I think about human rights, I don't think about a [return on investment]."
Apple announced this month that it would hire as full-time workers its security guards, who have been earning substantially less as contractors than the workers they're charged with protecting. Google Inc. did the same thing in October, inspired by a report issued by the labor group Working Partnerships USA, which found big tech companies rely almost exclusively on third parties to supply poorly paid maintenance workers. And Facebook Inc. recently reached a deal with a contractor that would substantially increase pay for the bus drivers who ferry the company's employees to work on corporate shuttles.
Still, experts suggested the changes will be limited without federal legislation to convince other companies to provide similar benefits. Many firms not named either Apple or Microsoft argue they simply don't have the financial resources to do so.
"It's a moral model, but I don't think there's a high probability it's going to become universal through business initiatives," Ruth Milkman, a labor sociologist at the City University of New York Graduate Center, told the New York Times Thursday. "The public wants this. The resistance is all from employers. The only way is through public policy."
© Copyright IBTimes 2023. All rights reserved.