Microsoft Vows Support For Apple, Says Feds' Data Grabs Threaten US Tech Sector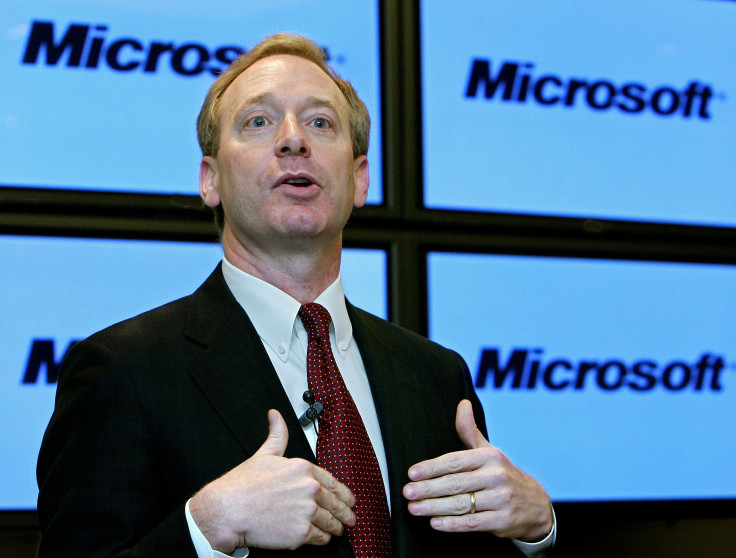 As the world focuses on the FBI's efforts to compel Apple to extract data stored on a terrorist's iPhone, another clash between government and tech is playing out between Microsoft and the U.S. Department of Justice. And just like in the Apple case, the outcome could have broad implications for American tech companies' ability to conduct business in a global market increasingly concerned about data security and privacy.
A federal judge in New York in July 2014 ordered Microsoft to hand over the emails of a Hotmail user suspected of drug trafficking. The emails are stored on servers in Ireland. Microsoft rejected the request and is arguing on appeal a U.S. search warrant does not apply internationally.
In testimony before the House Judiciary Committee Thursday, Microsoft chief counsel Brad Smith said that government overreach in both the Microsoft and Apple cases could hamper U.S. technology exports. "What's at stake is our ability to protect people's privacy and keep the public safe," Smith said. "And it's important for American job creation and economic growth, as otherwise these conflicts will continue to undermine around the world people's trust in American technology."
It's not an empty threat. Former National Security Agency contractor Edward Snowden revealed in 2013 the NSA was planting backdoors into U.S. made tech, including networking gear from Cisco, so it could spy on foreign governments. Cisco revenue dropped by 10 percent in the final quarter of that year. This, the company said, was because customers in China and other markets feared U.S. government surveillance and lost trust in Cisco's hardware.
Smith urged lawmakers to enact legislation that would create uniform and consistent rules to govern the circumstances under which the feds can access digital data. He also called on the White House to work with counterparts around the world to create global standards on the issue.
"Personal information that consumers store with technology companies should not be accessed or seized without proper legal process," Smith said. "This is all the more important given the massive amounts of sensitive information consumers are storing with technology companies."
To emphasize why the laws need updating, Smith brought a prop to the hearing. It was an adding machine manufactured in 1912, one year after Congress updated the All Writs Act. The DOJ is relying on the act in its attempt to compel Apple to create software capable of defeating the password on the iPhone 5c belonging to San Bernardino shooter Syed Farook. Smith said Microsoft plans to file an amicus brief in support of Apple.
Microsoft is appealing its case, and a ruling is expected in the coming weeks. "This is an important case because companies, particularly data-driven companies, are increasingly storing data throughout the world," said Felix Wu, professor of law at Yeshiva University in New York City. The big question is who can access data where, and how far governments can reach in data requests.
"The concern is not so much over the particular cases before the courts, but over the lack of a limiting principle, such that if the companies lose, much more of their customers' data will be reachable by the government," Wu said.
A lot is at stake for Microsoft, which needs to maintain its momentum in cloud services as revenue from its PC and phone businesses stalls. Productivity and Business Processes, a company unit that includes online Office services like email, brought in $6.7 billion in sales in the most recent quarter. This was up 5 percent year over year in constant currency. The unit accounted for 26 percent of the Redmond's overall revenue.
If Microsoft can't guarantee the privacy of data stored in its cloud, growth could slow. "These types of actions are leading to increasingly strong reactions that are undermining trust in American technology around the world," Smith said in his testimony. "They conflict with long-term opportunities to encourage growth, investment, and innovation in the global technology sector, a sector led by U.S. companies and contributing to millions of good U.S. jobs."
Rulings in the Apple and Microsoft cases could set precedents that would apply broadly across the U.S. tech sector, affecting other giants like Google and Amazon. If the courts come down on the side of law enforcement, consumers could have few options when it comes to their privacy. "What are you gonna do, where are you gonna go?" asked Jack Gold, president and principal analyst of J. Gold Associates.
Law enforcement agencies, from the FBI to the New York Police Department, have argued unbreakable encryption gives terrorists and other bad actors the means to plan their activities in total secrecy.
In a 2015 Pew Research poll, 93 percent of Americans said controlling who can get information about them is important.
Apple and Microsoft's intransigence could work in their favor. India engaged in a four-year standoff with Research In Motion (now BlackBerry) over government access to encryption keys. In two years during the standoff, the company tripled its India consumer base to 5 million while sales in other nations dwindled. Gold said Microsoft, in the right circumstances, could see a similar payoff.
Microsoft Corporation (MSFT) | FindTheCompany
FOR FREE to continue reading
✔️ Unlock the full content of International Business Times UK for free
offer available for a limited time only
✔️ Easily manage your Newsletters subscriptions and save your favourite articles
✔️ No payment method required
Already have an account?
Log in
© Copyright IBTimes 2023. All rights reserved.