Microsoft's OneNote For Mac Is Here, Software Now Free Across All Platforms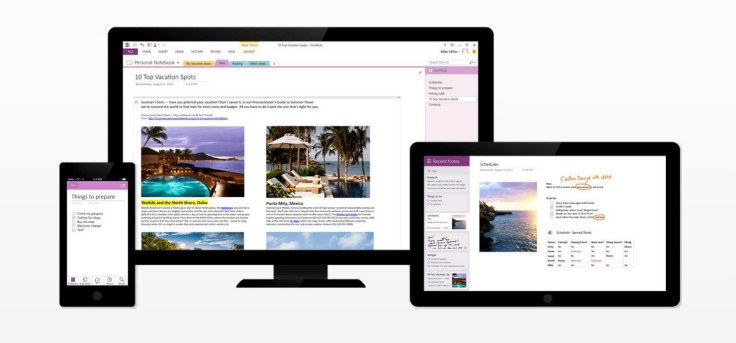 Microsoft (NASDAQ:MSFT), on Monday, released a new version of its OneNote app for Apple's (NASDAQ:AAPL) OS X operating system on Mac. The app is now available as a free download in the Mac App Store.
Similar to OneNote apps for other platforms, the app for Mac also includes the same ribbon interface and note-taking functionalities. In addition to Mac, the OneNote app is available for free across all platforms such as PC, Windows Phone, iOS, Android and the web. However, Microsoft will charge for premium features such as SharePoint support, version history and Outlook integration, The Verge reported.
In addition to releasing the app, Microsoft also unveiled a new cloud API, which will allow third-party developers to integrate OneNote clipping for easy saving and sharing through the service. The feature was previously rumored to be a web-clipping feature and competitor to Evernote, 9to5Mac reported.
Microsoft also launched an app on Monday called Office Lens for Windows Phone, which takes a picture of a whiteboard, document or business card, and makes it readable. The app also automatically recognizes the text for OneNote entries.
OneNote's partner apps include doxie, Feedly, IFTTT, EPSON, News360, Weave, JotNot Scanner and Genius Scan. The company has also collaborated with printer-maker, Brother, to include support for OneNote on some devices.
Other apps will be made available over the course of the year and Microsoft is also encouraging developers to create apps by launching a new developer portal.
Here are some of the key features of OneNote For Mac:
- Sync your notebooks seamlessly across computers and devices - then share them to your friends, family, or colleagues.
- Your notes look just the same on your Mac - including rendering ink annotation and formatting.
- Bold, italicize, underline, highlight, increase indent, decrease indent - format your notes like you want in a free form canvas.
- Search your notes and files for anything you've captured by just typing a keyword or phrase.
- Create, move, copy, re-order, rename, color code and delete pages, sections and notebooks to organize your content as you'd like.
To visit the Mac App Store to download the OneNote App, click here.
© Copyright IBTimes 2023. All rights reserved.