As Mideast seethes, 3 dead in Bahrain bloodshed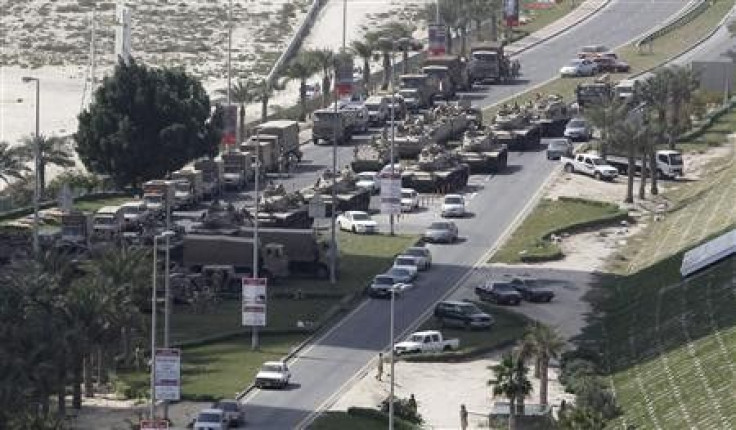 Unrest spread across the Middle East and North Africa on Thursday as Bahrain launched a swift military crackdown on anti-government protesters and clashes were reported in Libya and Yemen.
Troops in armoured vehicles took control of the Bahraini capital after police firing buckshot and teargas drove out protesters hoping to emulate demonstrators who toppled veteran leaders in Egypt and Tunisia.
It was the worst violence in the Gulf island kingdom in decades and a sign of the nervousness felt by Bahrain's Saudi-allied Sunni al-Khalifa royal family, long aware of simmering discontent among the country's majority Shi'ites.
Three people were killed, 231 were injured and opposition leaders said dozens were detained and about 60 were missing.
They are killing us! one demonstrator told Reuters.
After the violence in Bahrain, hundreds of Yemenis clashed again during a seventh day of anti-government protests on the other side of the Arabian peninsula, and in North Africa there were reports of new unrest in Libya.
A Libyan Day of Rage promoted on social media websites for Thursday started with little sign of activity in the capital, where supporters of Muammar Gaddafi, in power for 42 years, staged a rally in his support.
But a resident of the eastern city of Benghazi told Reuters there were clashes on Thursday in the nearby town of Al Bayda between government supporters and relatives of two young men killed during a protest a day earlier.
In Iraq, one person was killed and 33 wounded when police opened fire on anti-government protesters in the northern city of Sulaimaniya, medical sources and witnesses said.
Profound social and economic issues throughout the Middle East and North Africa will continue to serve as a driving force for further unrest, said political risk analyst Anthony Skinner at the Maplecroft consultancy. Protests in Bahrain and Libya reflect the ease with which protests have spread in the region.
Such worries helped push Brent crude prices to a 28-month high of $104 a barrel at one point on Thursday and were a factor in gold prices extending early gains to four-week highs.
SUICIDE TRIGGER
It was two months to the day on Thursday since a young Tunisian, Mohamed Bouazizi, triggered the wave of protests by setting himself alight on December 17 outside a government office in the rundown city of Sidi Bouzid. He was venting frustration at grinding poverty, official corruption and police brutality.
Since Tunisia's ageing strongman Zine al-Abidine Ben Ali fled a month later, followed a week ago by Hosni Mubarak in Egypt, opposition groups in a dozen or more countries have lived in hope the Arab world might experience a domino effect of the kind that swept communists from power in eastern Europe in 1989.
Oil and gas riches, as well as formidable police forces, give rulers the means to fend off challenges. But the way in which Ben Ali and Mubarak were overthrown after their armies refused to crush popular uprisings has given many pause.
Leaders from the Gulf to the Atlantic have announced a variety of measures to ease rising food prices and unemployment and to enhance political participation.
The oil-rich United Arab Emirates said on Thursday it would treble the number of people the rulers would choose to vote for members of an advisory body that serves as a form of parliament.
But Middle Eastern leaders have also tightened security.
The army in Bahrain, a country of 1.3 million people out of whom 600,000 are native Bahrainis, issued a warning to people to stay away from the centre of the capital and said it would do whatever was needed to maintain security.
At Pearl Square, abandoned tents, blankets and rubbish were scattered about and the smell of teargas wafted through the air.
Helicopters clattered over the city, which is a regional hub for banks and home to the U.S. Fifth Fleet.
SECTARIAN DIMENSION
The protesters want the Sunni ruling family to relinquish its control over top government posts and address grievances held by the country's majority Shi'ites who complain of economic hardships, lack of political freedoms and discrimination in jobs in public service and the military in favour of Sunnis.
The sectarian aspect of the violence in Bahrain could fuel discontent among the Shi'ite minority in neighbouring Saudi Arabia, the world's biggest oil exporter.
This is real terrorism, said Abdul Jalil Khalil of Bahrain's Shi'ite party Wefaq, which said it would withdraw from a parliament which has very limited powers. Whoever took the decision to attack the protest was aiming to kill.
Western powers have been caught in a dilemma between backing rulers whom they see as bulwarks against anti-Western Islamists and at the same time being seen to promote democracy.
In Bahrain, Saudi and Western officials fear majority rule could help their adversaries in Shi'ite-ruled Iran.
British Foreign Secretary William Hague warned against any interference in Bahrain by other nations and U.S. Secretary of State Hillary Clinton expressed deep concern at events there.
In Yemen, where dozens were wounded in the capital Sanaa during rock-throwing clashes between protesters and government loyalists, demonstrators want rid of President Ali Abdullah Saleh, who has ruled for 32 years but is seen by Washington as a key ally in its fight against al Qaeda Islamists based in Yemen.
© Copyright Thomson Reuters 2023. All rights reserved.