Midterm 2014 Election Results: Republicans Still Have A Women Problem, Exit Polling Shows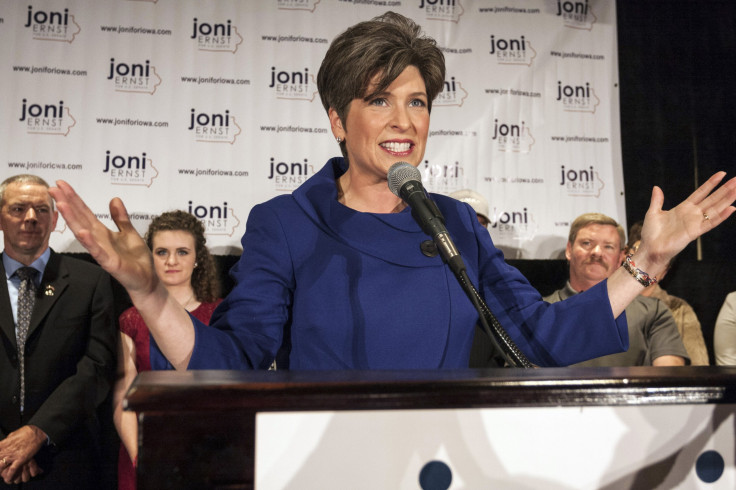 The sweeping Republican victory in Tuesday's midterm elections came without a key piece of the electorate: women. In the 10 most competitive Senate races in the 2014 midterm elections, GOP candidates won the women vote in just two races, according to exit polling -- and those two contests, Kentucky and Arkansas, are deeply red states that Republicans are expected to win in 2016, when Americans choose a new president.
As much of a blow Tuesday's elections were to Democrats, with Republican candidates winning or leading in seven of the 10 tightest elections, the party still won over women voters -- a key voting bloc in 2016 and a reliable one for Democrats. Female voters will be important to both parties that year. For Democrats, a woman on the top of the ticket, such as former Secretary of State Hillary Clinton, could energize their base and usher in the kind of enthusiasm seen for President Barack Obama's historic 2008 campaign. For the GOP, a Republican presidential candidate could close the gender gap with Democrats to go along with their male base and give them even greater chances of winning in 2016.
The GOP's female voter problem was best illustrated in the presidential swing state of Iowa, where Joni Ernst, a female state senator, became the state's first woman elected to Congress after beating U.S. Rep. Bruce Braley, D-Ia., 52 percent to 43 percent, according to preliminary election results. But it wasn't with the help of women. Ms. Ernst, a Republican, didn't win the female vote, which was a majority of Iowa midterm voters at 51 percent, according to NBC News exit polling. Braley carried women, 49 percent to 48 percent.
Conversely, the 2014 midterm elections showed just how well GOP candidates did with male voters, who tend to vote Republican. The GOP won men in all of the 10 most competitive races on Tuesday, according to exit polling. Ernst, for example, had a 16-point advantage with men over Braley, 56 percent to 40 percent.
Republicans worked hard to win the women vote in 2014. In New Hampshire, former Massachusetts Sen. Scott Brown aired a campaign ad featuring his sister that tried to appeal to women by telling a story about how he protected his sister from their abusive father. Other GOP candidates had female victims of domestic violence vouch for them in their campaign ads to counter the Democratic narrative that Republicans are waging a "war on women."
Senate Minority Leader Mitch McConnell, R-Ky., was one of the few bright spots for the GOP in courting the women vote -- and he had a female opponent. McConnell bested Kentucky's Democratic Secretary of State, Alison Lundergan Grimes, 50 percent to 47 percent among women, according to exit polls. Women made up 49 percent of Kentucky's midterm electorate. McConnell won the closely watched race overall, 56 percent to 40 percent.
The other was U.S. Rep. Tom Cotton, R-Ark., who had a 53 percent to 43 percent advantage among women against incumbent Democratic Sen. Mark Pryor. Women made up the majority of the midterm electorate in Arkansas with 52 percent of the vote.
But both states are bright red and are likely to solidly be in the Republican column in 2016, when Americans vote for their next president and the next Congress. So the GOP still has work to do in courting women, and not too much time to spare.
© Copyright IBTimes 2023. All rights reserved.