Hillary Clinton 2016: Current 'Inevitability" Talk Similar to 2008 Campaign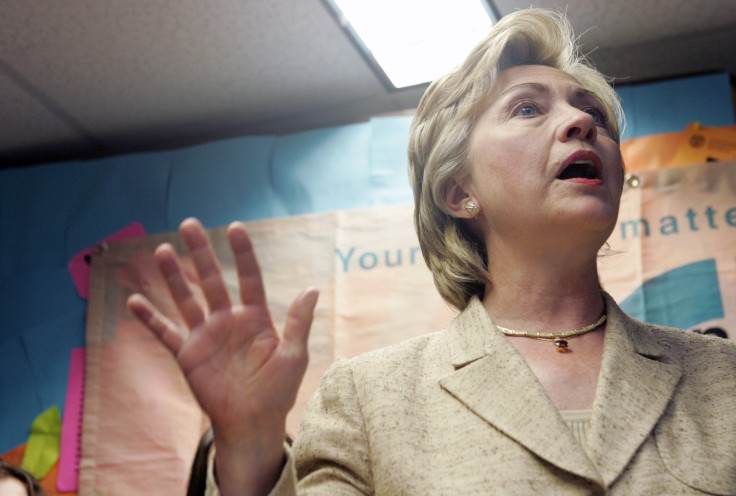 In the summer of 2006, it appeared Hillary Clinton would coast to the 2008 Democratic nomination for president. She dominated in the polls and had wide name recognition as a U.S. senator from New York and a former first lady. But we all know how that turned out: A relatively unknown Chicago politician named Barack Obama became the 44th president of the United States, not Clinton.
In many ways, the same "inevitability" talk of Clinton becoming the 2016 Democratic nominee has driven the conversation on the 2016 presidential campaign. What's unclear is whether history will repeat itself. Is there another Obama-like Democratic candidate out there not yet on the radar? Or is 2016 really Clinton's to lose?
"As strong as she was in '06, the tea has brewed for eight more years and she is much stronger, " Larry Sabato, director of the University of Virginia Center for Politics, said. "It's going to be awfully tough to beat her."
To be sure, Clinton shouldn't start writing her inauguration speech just yet. For one thing, she could decide to sit the campaign out. And if she does get in, Republicans still have strong feelings about her and her husband, former President Bill Clinton.
Stuart Stevens, Mitt Romney's top strategist in 2012, said Clinton's recent tenure as secretary of state opens her to more attacks because she has a longer record. He said Clinton's recent knock on Obama's foreign policy, in which she said "'don't do stupid stuff is not an organizing principle,'" doesn't absolve her from blame.
"Short of resigning in protest, you owned the policies of the administration you were in," Stevens said.
In 2006, with Republican George W. Bush in the White House, the Democratic field of presidential candidates was vast, and Clinton had just six years of experience as a U.S. senator. More seasoned politicians with previous presidential campaign experience, including then-U.S. Sen. Joe Biden, D-Del., and John Edwards, the 2004 vice presidential candidate and former Democratic senator from North Carolina, got into the race.
For a long time, Clinton stood out from the pack. A Gallup poll from June 2006 showed 36 percent of Democrats surveyed wanted Clinton as commander-in-chief, three times as many as those who preferred former Vice President Al Gore, who came in second among Democrats in the poll and ended up not mounting a 2008 bid. Obama wasn't included in the poll until pollsters asked the open-ended question, "Who would you most like to see elected president?" He then received support from just one percent of national adults, one percent from Democrats and two percent from independents.
It would be hard for another Democratic rival to overcome Clinton's international celebrity this time around, with Clinton performing better in the polls these days than she did even eight years ago. A CNN survey from July 18-20 showed Clinton with 67 percent support among Democrats. In a distant second was U.S. Sen. Elizabeth Warren, D-Mass., at 10 percent, the only other potential candidate in the double digits. Vice President Joe Biden was at 8 percent, New York Gov. Andrew Cuomo polled at 4 percent and Maryland Gov. Martin O'Malley received 2 percent.
O'Malley said he's "seriously considering running in 2016," the strongest statement from any possible candidate so far. Warren may be popular among liberal Democrats, but she's praised Clinton and has repeatedly said she won't run. And others who may be mulling the nomination, including Sen. Bernie Sanders, D-Vt., might do so just to get national attention for their ideas, pull Clinton further to the left, or drive up prices for their future speaking fees.
Meanwhile, Clinton has honed her credentials since the 2008 campaign after serving as Obama's secretary of state from 2009 to February 2013, a role that likely made it easier for American voters to view her as a possible commander-in-chief. And her embrace of the "Texts from Hillary" meme, which humorously portrays Clinton as a no-nonsense and snarky secretary of state (Clinton uses a photo from the meme as her Twitter profile picture), showed that she can be in on the fun.
Michael Cornfield, a political science professor at George Washington University's Graduate School of Political Management, doesn't see history repeating itself in 2016. He said Obama's 2008 candidacy was "a once in a 100-year event."
"I don't see anyone right now" derailing Clinton, he told International Business Times. "She has a clear path to the nomination."
As for name recognition, an important factor for any candidate, the Clintons enjoy more prestige now than perhaps ever before, according to Hank Sheinkopf, a New York City-based Democratic political consultant and president of Sheinkopf Communications who worked on Bill Clinton's 1996 presidential campaign.
"People who lived through the [Bill Clinton] period see two things: a world at peace and a booming economy," Sheinkopf said. "Fifteen years later, we're a world at war and [have] an economy that's yet to recover. 'Clinton' [now] is seen as 'strong economy,' 'peace and prosperity,' and 'who cares whether he was having an inappropriate relationship.'"
Clinton's ongoing book tour for "Hard Choices," has also helped redefine the family's narrative and deflect criticism that will likely resurface if she enters the 2016 race.
"She's in better shape than you'd think from the reviews of her book tour," Cornfield said. "She's clearing a lot of bad air. Monica Lewinsky is gone as a story."
As strong as Clinton's potential candidacy might seem, that could all fall apart if someone more appealing to voters ends up running against her. To win, she will likely need a united Democratic primary and a weak Republican rival in the general election, Sheinkopf said. And two years is a long time in politics.
"Those that are preparing inaugural parades for her can take a breath because a lot can happen between now and then," Sheinkopf said. "Conventional wisdom is rarely correct in politics."
FOR FREE to continue reading
✔️ Unlock the full content of International Business Times UK for free
offer available for a limited time only
✔️ Easily manage your Newsletters subscriptions and save your favourite articles
✔️ No payment method required
Already have an account?
Log in
© Copyright IBTimes 2023. All rights reserved.