Midterm Election 2014: Obama Ramps Up Campaign Schedule With Stops In Michigan, Wisconsin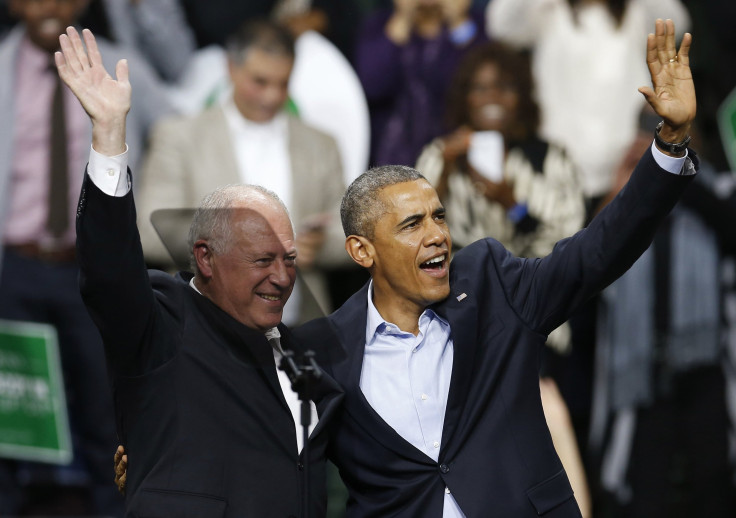 After being largely absent from the 2014 campaign trail, President Barack Obama is finally appearing with Democratic candidates with Election Day one week away. The president's schedule this week includes his first campaign event with a Democratic Senate candidate, in Michigan.
Instead of stumping with Democratic candidates, who might see a joint public appearance with him as a liability, Obama has concentrated on headlining many fundraisers for the Democratic Party and the campaign arms of House and Senate Democrats, which then funnel the money to the candidates. A Democratic National Committee fundraiser was on Obama's schedule for Tuesday in Wisconsin, where he was also to appear at a Milwaukee rally with gubernatorial candidate Mary Burke, who is giving Republican Gov. Scott Walker a close race. Obama carried Wisconsin in both of his elections, but voters there disapprove of his job performance by 49 percent to 46 percent, according to a Marquette Law School poll conducted earlier this month. The survey also showed Walker and Burke tied at 47 percent.
The campaign rally with Burke is just the third for Obama in 2014, while the fundraiser is his 63rd , according to CBS News' Mark Knoller, who is known for keeping a tally of such events. Obama's popularity, or lack thereof, has made Democratic Senate candidates reluctant to campaign with him. Gallup's tracking poll of Obama's approval shows just 42 percent of Americans approve of the job the president is doing, compared with 52 percent who disapprove. Obama's campaign schedule in this final week is limited to blue states that voted for him in both 2008 and 2012.
After Wisconsin, Obama will head to Maine on Thursday in support of Democratic candidates, followed by Rhode Island on Friday, Michigan on Saturday and Philadelphia and Connecticut on Sunday, White House press secretary Josh Earnest said amid questions from the media on why Obama hasn't had a robust campaign schedule thus far. "I think any examination of the president's schedule over the course of the next eight days in advance of the midterm election would indicate a serious commitment by this president to supporting Democratic candidates on the ballot," Earnest said. The press secretary noted that Obama previously appeared with Minnesota Sen. Al Franken, who is up for re-election, but there weren't "any campaign events associated with that trip."
"So, certainly he is looking forward to his event with Peters in Michigan on Saturday," Earnest said, referring to Rep. Gary Peters, who is running for Senate against Republican Terri Lynn Land, Michigan's former secretary of state. Peters is likely to win the seat of retiring Democrat Carl Levin, according to Real Clear Politics. The Democrat has an average advantage of 10 percentage points in the latest polls.
© Copyright IBTimes 2023. All rights reserved.