Migrant Workers From Haiti Building 2014 World Cup Stadiums In Brazil Denounce Inhumane Conditions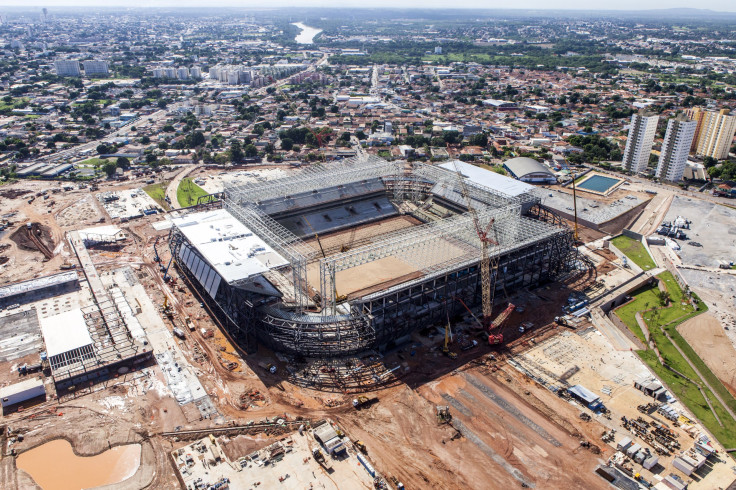 Brazil has entered countdown mode. With the World Soccer Cup less than six months away, the country's largest cities are rushing to complete the construction of stadiums and have it all ready by June 12, when one of the world's biggest sporting events begins. The number of people needed to make deadlines is greater than first calculated, and thus, the demand for migrant workers and their cheap wages has escalated.
Since early December, when it first was reported that there were delays in the construction of stadiums, companies responsible for the building of stadiums began recruiting Haitian workers to keep schedule and budget.
Construction firm Mendes Junior Engenharia SA (BVMF:MEND6), which is building 12 of the stadiums, has brought in more than 100 workers from the Caribbean country to help complete the Arena Pantanal in Cuiaba, in central Brazil, reported Bloomberg. At the Arena da Baixada stadium site, in the coastal town of Curitiba, 65 of the 1,000 workers are from Haiti, and they labor under a blazing sun in precarious conditions.
These are just a small number, according to estimations by the Curitiba construction workers' union Sintracon. The union told Spanish newspaper El País that every week, around 15 Haitians go to it to denounce low wages, lack of safety and the precariousness of accommodations. "The lucky ones are hired by large companies with resources," said Domingos Davide, president of Sintracon. "The problems are not with the stadiums or the job, [it] is with the smaller companies" that subcontract the work.
According to Davide, urban construction in Brazil is going through a "subcontracting fever." "Businessmen start a small company, get carried away and then they cannot finish their contracts, or pay their workers," Davide said.
Yet some workers have no option but to believe the promises. Haiti, the poorest country in the Western Hemisphere, is still trying to get back after the earthquake of 2010 that claimed 220,000 lives and displaced more than 1 million Haitians.
Many of the Haitians who end up emigrating have college degrees, but cannot get them recognized abroad. So they have to resort to manual labor, and travel to far-flung places under horrible conditions. The trip to Brazil, more than 3,000 miles or 5,000 kilometers away, is done in overcrowded buses in the darkest hours of the night, for a price of $2,500.
"We are here to work and to help those we left behind," said one of the workers at Curitiba. Remittances from emigrants accounted for 20 percent of the Haitian GDP in 2012, according to Index Mundi.
Regardless of the efforts of Haitians, the stadiums' construction is still delayed. Arena Pantanal was supposed to open on Dec. 31, but the latest statement said it would open two months before the first game. Arena da Baixada has yet to announce an opening date.
© Copyright IBTimes 2023. All rights reserved.