Minsk Jails Polish-Belarusian Reporter For Eight Years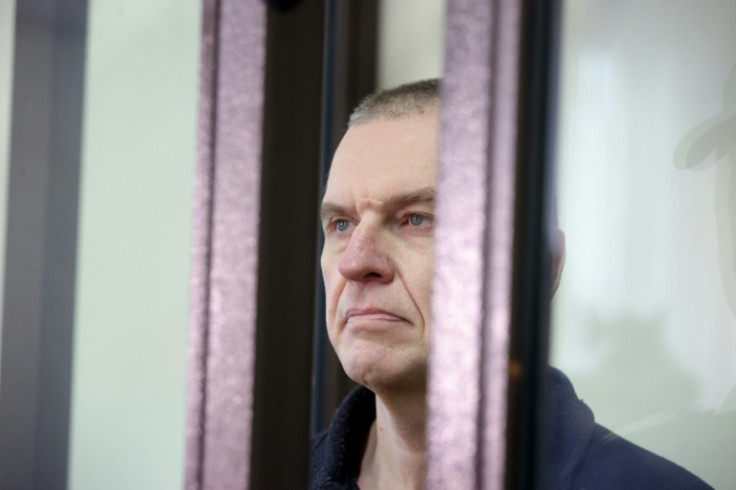 Belarus on Wednesday sentenced a Polish-Belarusian journalist to eight years in prison over his critical reporting on the Moscow-aligned regime of President Alexander Lukashenko.
Supporters including Polish authorities condemned the trial.
Andrzej Poczobut, a correspondent for Poland's top daily Gazeta Wyborcza and an active member of Belarus's Polish diaspora, was sentenced in his home city of Grodno, near the Polish border.
Belarus' top rights group Viasna said the 49-year-old was found guilty of taking part in "actions harming national security" and "inciting hatred".
"Judge Dmitry Bubenchik found Poczobut guilty and sentenced him to eight years in a penal colony with enhanced security," the group said.
Belarus witnessed a historic protest movement denouncing the controversial 2020 re-election of Lukashenko, who has been in power for nearly 30 years.
Backed by Russian leader Vladimir Putin, Lukashenko unleashed a massive crackdown, throwing critics in prison or forcing them into exile.
More than 30 Belarusian journalists are currently in jail in the post-Soviet country.
Viasna, whose founder Ales Bialiatski was co-awarded last year's Nobel Peace Prize, included Poczobut on its list of 1,449 political prisoners in Belarus.
Poland, Belarus's EU-member neighbour, which had demanded his release, called Wednesday's verdict "unfair".
"Andrzej Poczobut is a Polish and Belarusian patriot," the Polish foreign ministry spokesman Lukasz Jasina said on Twitter.
"We stand by him and we will continue to do so."
Poczobut is a member of the "Union of Poles of Belarus".
His newspaper published a letter he wrote from detention ahead of the verdict.
"I do not have any illusions, I will take the sentence calmly and with a calm conscience go to prison," the journalist wrote.
Gazeta Wyborcza deputy editor-in-chief Roman Imielski called Lukashenko a "bandit".
"He wants to destroy all free people, but he will never break Andrzej," he said.
Poczobut refused to leave Belarus after Lukashenko suppressed the protests and was arrested in March, 2021.
According to Viasna, Poczobut refused to sign a petition to be pardoned by Lukashenko.
Belarusian opposition leader Svetlana Tikhanovskaya, who lives in exile and was visiting Warsaw on Wednesday, praised Poczobut for refusing "any deals with the unlawful regime".
"This is Lukashenko's personal revenge," she said on Twitter.
"Now we must do everything possible to free him along with all other political hostages," she said.
Poczobut's sentencing comes after the start of a series of high-profile trials against Lukashenko's critics.
Bialiatski himself went on trial last month.
Also in January, Tikhanovskaya's trial began in absentia in Minsk. She faces a litany of charges including treason and the "conspiracy to seize power".
Ostracised for years, the Lukashenko regime became even more isolated after it brutally suppressed the protest movement and in February, 2022, allowed Putin to use Belarusian territory as a launchpad for Moscow's assault on Ukraine.
At loggerheads with the West, Minsk often singles out Warsaw as a particular threat, and Poland has become a hub for exiled Belarusians.
© Copyright AFP 2023. All rights reserved.