Miss USA Controversy: Univision Drops Pageant After Donald Trump's Comments About Mexicans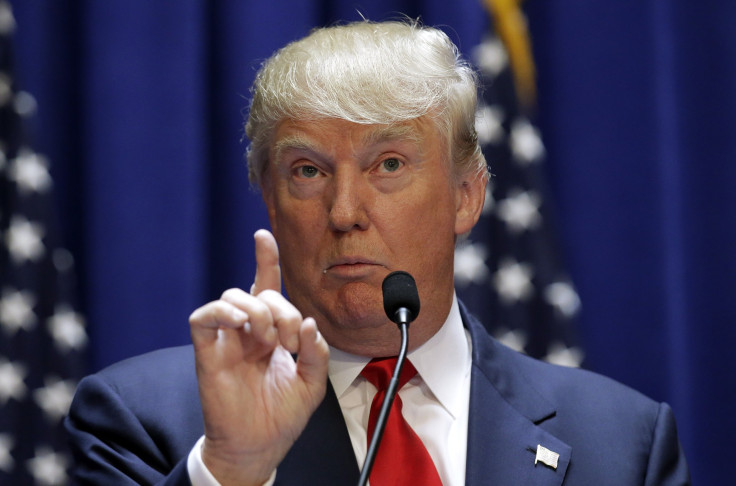 UPDATE: 3:47 p.m. ET
Donald Trump announced he plans to sue Univision for breach of contract and defamation after the company backed out of it its contract for the Miss USA and Miss Universe pageants, Politico reported.
"We intend to pursue all legal rights and remedies available to Mr. Trump pursuant to the terms of the license agreement as well as a defamation case against Univision," Michael Cohen, Trump's executive vice president and special counsel, said, according to Politco. "I am at this moment finalizing the retainer agreement with outside counsel."
The announcement to sue comes after Trump told the On Media blog the Univision had defaulted on an "iron-clad" $13.5 million contract, via Politico. "They have no termination rights whatsoever," Trump said to the blog, via Politico.
Original story:
Univision, the largest Spanish-language broadcaster in the United States, on Thursday dropped its scheduled broadcast of the Miss USA pageant because of comments Republican presidential candidate Donald Trump made about Mexicans during the speech announcing his campaign, reported CNN Money. Trump is a part owner of the Miss Universe Organization along with Comcast's NBCUniversal. Univision also said it would break off all other business with Trump as well as cancelling its telecast of the July 12 event, set to air on NBC.
"At Univision, we see firsthand the work ethic, love for family, strong religious values and the important role Mexican immigrants and Mexican-Americans have had and will continue to have in building the future of our country," the company said, according to CNN Money. "We will not be airing the Miss USA pageant on July 12 or working on any other projects tied to the Trump Organization."
The Miss Universe Organization and Univision reportedly inked a five-year deal just months ago that allowed Univision to co-produce and broadcast the Miss USA and Miss Universe pageants. Univision also reportedly said its news outlets would still cover all candidates, including Trump. The real estate mogul, known for being outspoken, responded by alleging that the Mexican government and others were putting "tremendous pressure on Univision to break their signed and fully effective contract," in a statement, according to CNN Money.
Trump also took to Twitter to fire back at Univision, posting a series of tweets alleging that Univision backed out because he'd exposed terrible United States-Mexico trade deals.
Soon after Univision announced its decision, Chilean actor Cristian de la Fuente -- who was set to be the Hispanic host at the Miss Universe event -- quit and released a statement addressed to Trump that said, "You are ignorant, racist and anti-Hispanic," according to CNN Money. The outlet reported NBCUniversal might seek to televise the event on Univision competitor Telemundo.
Trump during his campaign announcement speech stated that Mexico was an enemy of the U.S. "When do we beat Mexico at the border?" Trump asked. "They're laughing at us, at our stupidity. And now they are beating us economically. They are not our friend, believe me. But they're killing us economically. The U.S. has become a dumping ground for everybody else's problems."
He went on to comment on the type of people he felt were coming to the country from Mexico. "When Mexico sends its people, they're not sending their best," he said. "They're not sending you. They're not sending you. They're sending people that have lots of problems, and they're bringing those problems with us. They're bringing drugs. They're bringing crime. They're rapists. And some, I assume, are good people."
There has been a strong response to the controversial comments. Colombian reggaeton singer J Balvin responded Wednesday by backing out of a planned performance at the pageant. Univision host Jorge Ramos called Trump's statements "absurd" and "prejudiced," according to CNN Money. And on Thursday, Univision officially backed out and ended its business relationship with Trump and the Miss Universe Organization because of his comments about Mexican immigrants.
© Copyright IBTimes 2023. All rights reserved.
FOLLOW MORE IBT NEWS ON THE BELOW CHANNELS