Mistral Military Ships Refund: Russia, France Agree To Terms For Undelivered Seacraft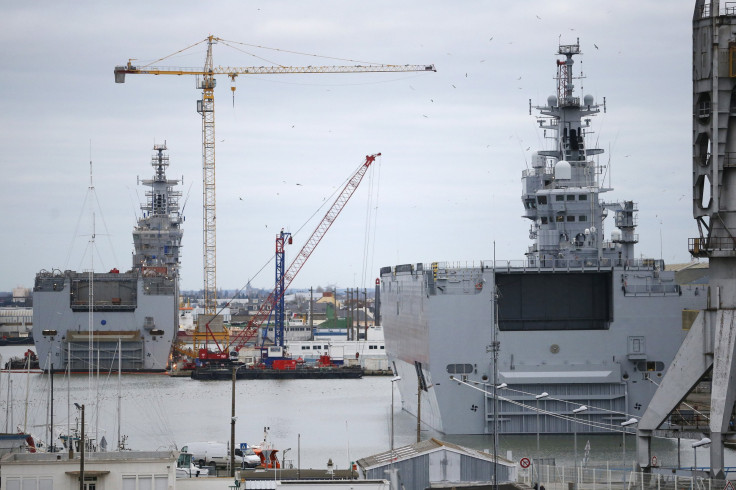 Russia and France have finally agreed on the refund amount of the ill-fated Mistral helicopter landing ship deal that was canceled after Russia annexed Crimea in March 2014, according to a Kremlin aide cited by the Pro-Russian news website Sputnik. The fate of the two fully built ships has been uncertain over the last 16 months, with French President Francois Hollande reluctant to complete the $1.2 billion sale while Russian-backed rebels in Ukraine refused to abide by February's Minsk II ceasefire agreement.
"The talks have been completed, everything is settled," Vladimir Kozhin, President Vladimir Putin's aide on military-technical cooperation, said Thursday. "The schedule and the amount, which Paris will repay to Moscow [is decided]. I hope that an agreement on the termination of the contract will be signed very soon, and we will be able to announce the sum that France will pay us."
While sanctions against Russia did not extend to the deal Paris signed with Moscow in 2010, Hollande was under pressure by European leaders to put the contract on hold until Russia and its proxies in eastern Ukraine met the requirements of the ceasefire. Even though both ships were nearing completion and Russian sailors in France had commenced sea trials and a handover, the deal ultimately fell apart, which resulted in the contract being voided.
Consequently, Russia legally became entitled to have its deposit returned, along with costs and compensation because France missed the contractual deadline. Those exact details have not yet been released.
Meanwhile, Russia was expected to press ahead and build its own helicopter landing ships while France works out what to do with the two it has.
Russia put together a specialist working group last week to strip both Mistral ships of the communications equipment that it installed onboard before the deal was canceled.
© Copyright IBTimes 2023. All rights reserved.
FOLLOW MORE IBT NEWS ON THE BELOW CHANNELS