Mitt Romney 2016: Former Massachusetts Governor Reportedly Warming To Idea Of Third Presidential Run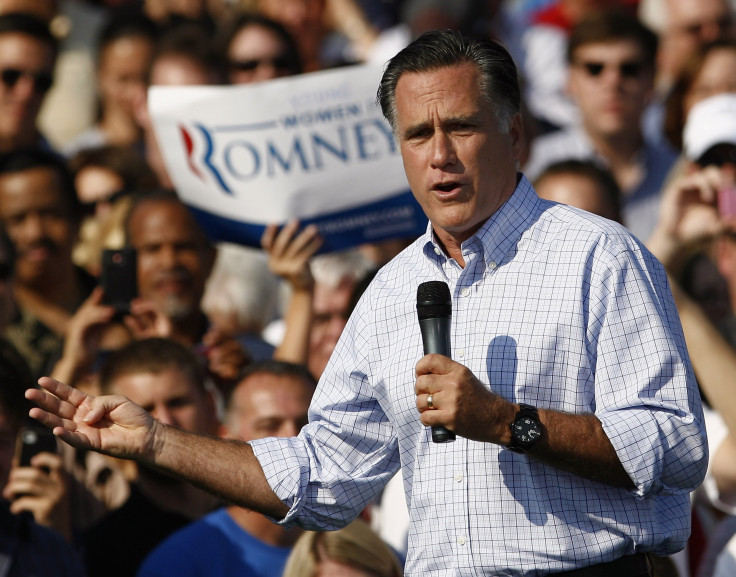 Failed 2012 Republican presidential hopeful Mitt Romney is considering a run in 2016, after judging potential GOP contenders to be less than impressive, according to reports. A core group of Romney supporters, including former donors, "think he should take another stab" at the presidency, according to a confidential source cited by Politico.
In addition, one Wall Street executive who met with Romney recently, told the paper: "I came away from the conversation with the distinct impression that he was running and that he did not think anyone in the field right now was particularly strong," he said, adding: "It sounded like he felt he could win."
It would be Romney's third try for the presidency, following an unsuccessful bid for the Republican nomination in 2008, and his failed 2012 campaign for the office after securing his party's nomination.
Romney's confidence may be buoyed by the problems facing Jeb Bush, who has expressed an interest in a 2016 run. A Bloomberg Businessweek story cited Bush's involvement in an offshore private equity fund, of a kind that is commonly used to shield U.S. investors from taxes in that country. In addition, Chris Christie, another potential Republican candidate for the 2016 election, is seen as likely to have to fend off charges that his views are too far to the left on guns and judicial appointments for Republican voters.
Romney's 2012 election campaign put his record as a private equity investor to the fore, but the strategy was ultimately unsuccessful, and was subject to relentless criticism from the Obama campaign that a man of Romney's wealth was out of touch with the plight of ordinary Americans during the worst financial crisis in decades.
The news of Romney's potential 2016 candidacy comes as reports suggest that major Republican donors are keen to clear the field for an establishment candidate who can defeat the likely Democratic nominee, Hillary Clinton.
A successful campaign to secure the party's nomination would likely cost $80 million, according to a New York Times report, raising fears among GOP fundraisers that a hard-fought primary campaign would waste money and damage the eventual candidate.
In addition to Bush, Christie and Romney, other leading GOP figures, such as Kentucky Senator Rand Paul, and Florida Senator Marco Rubio are also seen as possible challengers for the 2016 Republican nomination.
© Copyright IBTimes 2022. All rights reserved.
FOLLOW MORE IBT NEWS ON THE BELOW CHANNELS