MLB Rumors: Phillies Hope To Seal Deal With All-Star Catcher With $100 Million Pitch – Reports
KEY POINTS
J.T. Realmuto will need to decide on his future soon
A report says the Phillies are offering more than $100 million, which is still below Realmuto's asking price
Multiple teams are waiting for Realmuto's decision and are ready to explore deals
The Philadelphia Phillies are buckling down to work with several players still unsigned. One of them is J.T. Realmuto, although it appears there is some progress in the Phillies' plan to re-sign the two-time All-Star.
The Phillies have offered the 29-year-old catcher a five-year deal worth roughly more than $100 million, The Athletic reported. This becomes Philly's second attempt to close a deal with Realmuto after previously pitching an $18.9 million extension offer.
However, the amount specified remains below what Realmuto is reportedly seeking. He was hoping to land a deal worth about $200 million, roughly in the vicinity of what Joe Mauer got from the Minnesota Twins. The six-time All-Star got an eight-year deal worth $184 million from 2011-18, MLB.com reported.
Doing the math, this means that the Phillies need to offer about $115 million to surpass Mauer's contract. With Spring Training set to start next month, it could be the best offer on the table for the 2009 AL MVP.
Realmuto has posted a .273/.333/.492 slash line with 36 homers and 115 RBI in two seasons. He won his first Gold Glove Award and second Silver Slugger in 2019.
The 29-year-old appears to be content playing for Philadelphia and prefers to stay if his financial demands are met. Aside from that, Bryce Harper also made it clear that he wanted the team to do everything necessary to keep Realmuto in the fold.
There remains strong interest in Realmuto if the Phillies fail to come to terms with the All-Star catcher. Among those interested in exploring him include the New York Mets, Toronto Blue Jays and the Washington Nationals.
All three teams could use someone like Realmuto, who is considered a good player on both ends. The Blue Jays look logical, while the Nationals could revisit a potential deal. Washington had explored getting Realmuto when he was still with the Miami Marlins.
The Mets also loom as a plausible destination. However, they may not be able to offer a good package – something that the Phillies are trying to address right now.
Phillies president of baseball operations Dave Dombrowski and his wife had lunch with the Realmutos before Christmas, and such could have been a factor in the recent nine-figure pitch.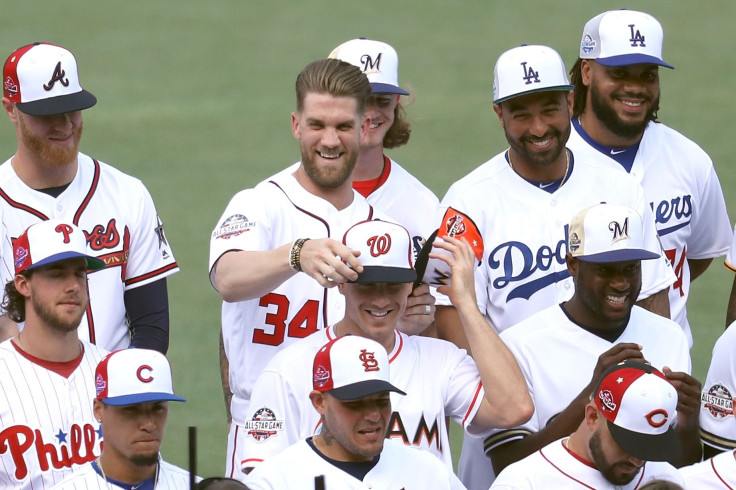 © Copyright IBTimes 2023. All rights reserved.