MLB Trade Rumors: Nolan Arenado, Colorado Rockies Breakup Could Be Delayed With 2020 Season In Flux
The coronavirus pandemic hasn't simply put games on hold for the 2020 MLB season. With the state of the league in flux, potential trades have also been prevented from happening.
Some of the best young players in baseball were made available early in the year. The Boston Red Sox sent 2018 AL MVP Mookie Betts to the Los Angeles Dodgers, along with pitcher David Price, in a blockbuster trade. Cleveland Indians shortstop Francisco Lindor and Chicago Cubs third baseman Kris Bryant were at the center of trade rumors.
Nolan Arenado appeared to be the superstar that might be traded next. The Colorado Rockies third baseman wasn't shy about expressing his displeasure regarding the team's trade talks, calling general manager Jeff Bridich "disrespectful."
In early March, before spring training was suspended, ESPN's Jeff Passan said it was inevitable that Arenado would be traded. USA Today's Bob Nightengale said Arenado told him he was almost convinced he'd be dealt by the July 31 trade deadline, possibly to the St. Louis Cardinals.
That was before the fate of the 2020 season was up in the air. Now, as the owners and the Major League Players Association negotiate plans for a shortened season, the two sides might have less than two weeks to come to an agreement before any hope of playing baseball this year is lost.
If there is no season, that means Arenado will be signed for only one more year until he's able to opt-out of his deal and become a free agent. The 29-year-old signed an eight-year, $260 million extension before the 2019 season, but he can terminate the deal after being paid a $35 million salary in 2021.
It's hard to say what the Rockies will do with Arenado if the plan for a shortened 82-game season passes. Would teams be less inclined to trade valuable prospects for a player that can become a free agent after fewer than 250 games? Maybe it would create some unlikely suitors, willing to make a bold move during a season that could have more randomness than usual.
MLB is reportedly looking to start the season on July 1. Arenado will almost certainly still be wearing a Rockies' uniform that day, something that might not have been the case if sports hadn't been interrupted.
Arenado has made five straight All-Star Games and won the Gold Glove award in all seven of his MLB seasons. He hit .315/.379/.583 with 41 home runs and 118 RBI in 2019.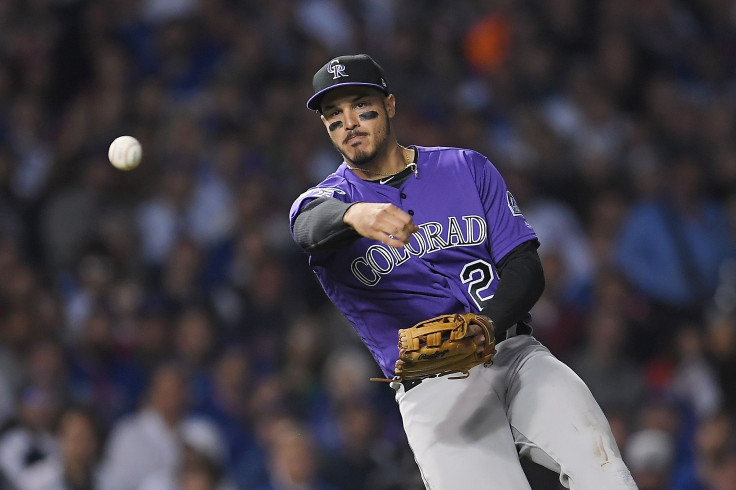 © Copyright IBTimes 2023. All rights reserved.