MMA News: Middle East-Based Promotion Celebrates Milestone With Four Events In 21 Days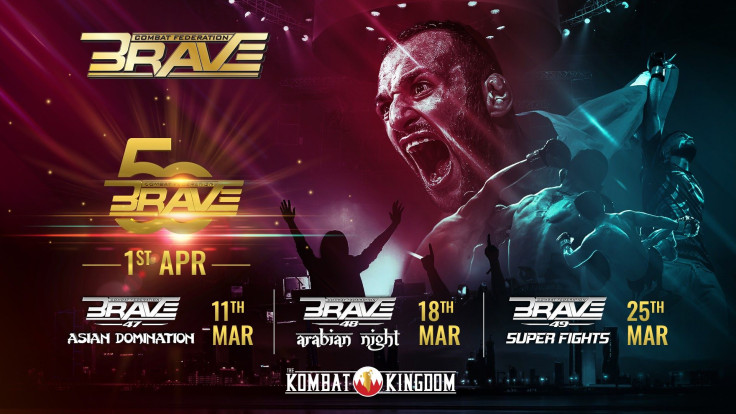 KEY POINTS
Brave CF heads back to Kombat Kingdom for historic four-event stretch
"21 Days of MMA Mayhem" begins on March 11 and runs until April 1
Brave CF 50 headlines quartet of MMA offerings from the Bahrain-based promotion
Brave Combat Federation, a mixed martial arts (MMA) promotion based in Bahrain, has announced the return of its Kombat Kingdom series, with four consecutive MMA events starting March 11 all the way up to April 1.
All events will take place at the National Stadium in Riffa, Bahrain.
The four-event stretch, known as "21 Days of MMA Mayhem", will kick off with Brave CF 47: Asian Domination on March 11, followed by Brave CF 48: Arabian Nights on March 18, and Brave CF 49: Super Fights on March 25.
On April 1st, the organization will make history with its biggest event yet, Brave CF 50, which marks a series of milestones for the company.
In just a little over four years since its inception, Brave CF will be holding their 50th show and will be the first organization to do so while having already visited 21 countries in the process.
Since the company's first event in 2016, Brave CF has had stops in Bahrain, Brazil, United Arab Emirates, Saudi, Northern Ireland, Philippines, Colombia, Morocco, India, Sweden, Romania, South Africa, United Kingdom, Slovenia, and many other countries.
The highly-anticipated offering of fights for all four events will be announced in the upcoming days and is expected to feature multiple title fights, the next leg in the prestigious Flyweight World Title Tournament, and the biggest stars in the league.
Brave CF is home to some of the best MMA fighters in the world, including UFC veterans Ali Bagautinov, Zach Makovsky, Lucas Martins, Mehdi Baghdad, Felipe Silva and Rolando Dy, as well as homegrown products such as Amin Ayoub, Eldar Eldarov and Cleiton Silva.
© Copyright IBTimes 2023. All rights reserved.