MMA News: PFL Partners With Brazil's Premier Media Company To Bolster Overseas Coverage
KEY POINTS
The Professional Fighters League has partnered with Globo
Fans will get to watch PFL through Combate platforms
PFL is home to a number of top Brazilian MMA talents
The Professional Fighters League (PFL), a United States-based mixed martial arts (MMA) promotion, continues to expand its reach across the globe--this time partnering with Brazilian media giant Globo.
Brazil, of course, is one of the biggest markets for MMA in the world and is widely considered the birthplace of the sport.
PFL announced on Tuesday that Globo will be carrying each of PFL's live events, giving fans and viewers in Brazil the opportunity to view MMA in a true season format for the first time via Combate platforms such as pay-TV channel, website, app, and social networks.
READ ALSO: MMA News: State-Of-The-Art Bubble To Host 2021 PFL Season
The league will also be given extensive coverage on Brazil's main sports news programs and other portals.
"I am pleased to announce Brazil's number one media company, Globo, will be the home of the PFL's 2021 Regular Season, Playoffs and Championship events starting April 23rd," said PFL CEO Peter Murray. "MMA fans in Brazil can watch the PFL's season-long action and witness the journeys of the best fighters on the planet, including Brazil's GOAT heavyweight Fabricio Werdum, and returning two-time PFL Featherweight Champion Natan Schulte."
As mentioned, PFL is home to a handful of Brazil's top mixed martial artists, including former UFC champion and top heavyweight contender Fabricio Werdum, reigning two-time PFL lightweight titleholder Natan Schulte, and veterans such as Gleison Tibau, Joao Zeferino, Cezar Ferreira and Larissa Pacheco.
"Our goal is to offer the best of combat sports' world to the passionate Brazilian audience. The Professional Fighters League enhances our portfolio and makes us very excited with the opportunity to offer great content to millions of Brazilian fans which will surely engage with the competition and support the athletes," added Rafael Gruenbaum, the head of Combat Sports and Combate Channel.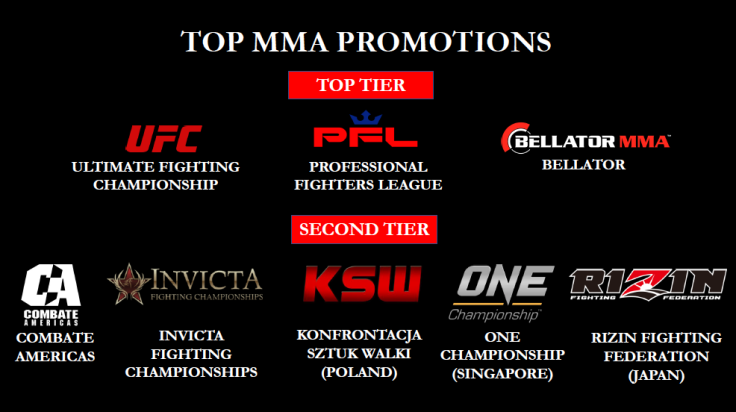 READ ALSO: Things To Look Forward To In The Upcoming PFL 2021 Season
PFL will kick off its highly-anticipated 2021 season on April 23rd on ESPN.
PFL 1 on April 23 will be headlined by Anthony Pettis facing Clay Collard in a lightweight main event. On the other hand, PFL 2 on April 29th will be starred by Rory MacDonald, who is set to duke it out with former welterweight tournament finalist David Michaud.
© Copyright IBTimes 2023. All rights reserved.