Modi Offers Nepal $1B Loan In Regional Diplomacy Push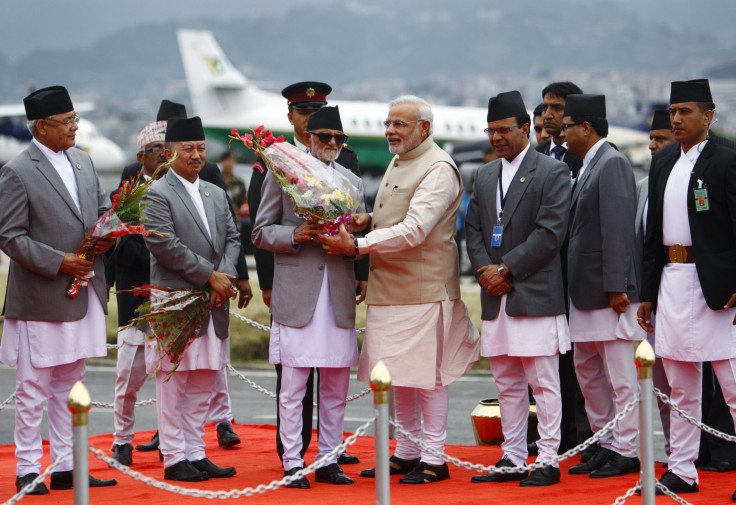 (Reuters) - Prime Minister Narendra Modi offered Nepal $1 billion in concessional loans to help build power plants and roads during a visit on Sunday aimed at shoring up support in a region where China is making inroads.
Both India and China are vying for political influence in South Asia, home to more than 1.5 billion people, by offering closer integration with their giant economies.
India has long been the dominant force in the region. But in recent years as its economy slowed and it struggled with policy paralysis, China has stolen a march, building ports from Sri Lanka to Bangladesh and power plants in Nepal.
Modi is on a two-day visit to Kathmandu to help speed up negotiations on a power trade pact that is at the centre of his new diplomatic drive.
"Nepal needs highways, information ways and transmission ways. India will support you in all these," he said in an address to the Nepali parliament where he announced the $1 billion credit line for the landlocked nation.
"Nepal can use this on hydropower and infrastructure projects of its choice," he said to thunderous applause in a parliament chamber where politicians in the past have often targeted India as a "big brother" meddling in its affairs.
Since becoming prime minister in May, Modi has reached out to neighbours after years of neglect, in a policy top advisers say is key to his plans to make India a military and economic power.
"The government's real challenge in Nepal is not China. It is the tragic failure of Delhi's own engagement with Kathmandu," said C.Raja Mohan, a top Indian foreign policy expert.
"Despite geographical proximity, cultural intimacy, economic interdependence and shared political values, India has stumbled in Nepal."
This is the first bilateral visit to Nepal by an Indian prime minister in 17 years, though Indian leaders have routinely attended regional summits in Kathmandu.
POWER PACT
Indian and Nepali negotiators were trying to narrow down differences over a power pact aimed at harnessing Nepal's estimated 42,000 MW hydro-electric potential to meet domestic needs and also supply India's giant energy-starved economy.
The Himalayan nation currently has an installed capacity of just 600 MW because its development has been held back by years of political instability. It is still struggling with the transition to a constitutional republic after the abolition of the monarchy in 2008.
Nepal's politicians are at odds over the proposed energy pact. Opponents say it would give Indian firms a stranglehold over Nepal's energy resources and bar other countries, like China, from investment in the sector.
Modi sought to allay those concerns.
"Nepal can become a prosperous nation by selling electricity to India. We want to join you in your journey to prosperity," Modi, dressed in skin tight trousers, knee-long loose shirt and a waist coat, said in a speech in Hindi.
During the two-day trip, Modi plans to meet politicians across the spectrum, including the Maoists who have accused India of meddling in Nepal's internal affairs in the past.
On Monday, he will offer special prayers at Lord Pashupatinath temple, a major Hindu landmark in Kathmandu, stressing the religious bonds with majority-Hindu Nepal, a country of 27 million people.
© Copyright IBTimes 2023. All rights reserved.