Moody's Chicago Downgrade Earns Criticism For Mayor Rahm Emanuel Ahead Of Historic Runoff Election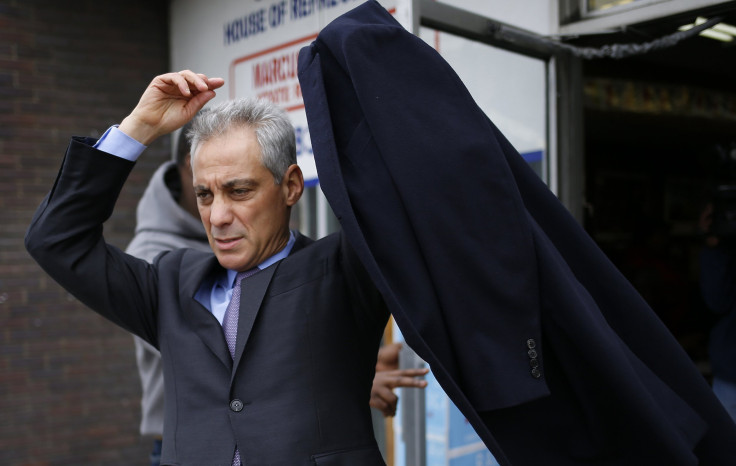 Chicago's massively underfunded pension system is costing the city its Moody's credit rating, and earning criticism for Mayor Rahm Emanuel as he battles for votes in the city's first-ever mayoral runoff.
Moody's Investors Service on Friday downgraded the Windy City's rating one notch, meaning it will be more expensive for the city to borrow money in the future. Chicago, with it's $20 billion in pension debt, now hovers two notches above junk status, according to Reuters.
The ratings agency doesn't like the city's long-term outlook, either. Moody's expects that Chicago's pension liabilities will "continue to grow, placing significant strain on the city's financial operations," its report said.
The downgrade proved fodder for Cook County Commissioner Jesus "Chuy" Garcia, Emanuel's opponent in a runoff election slated for April 7. Per the Chicago Sun-Times, Garcia called the credit rating slip an "objective judgment on Emanuel's lack of fiscal stewardship."
The mayor's office shot back, arguing that the Moody's downgrade is an anomaly compared to ratings from Fitch and Standard & Poor's. "We strongly disagree with Moody's decision to reduce the city's credit rating and would note that Moody's has been consistently and substantially out of step with the other rating agencies, ignoring the progress that has been achieved," Emanuel's office said, according to the Sun-Times.
No candidate in Chicago's mayoral election earlier this week managed to rally 50 percent of the vote -- forcing Emanuel to enter the unprecedented runoff to defend his candidacy for a second term. In the meantime, Emanuel's pension reform for the city faces challenges in the Illinois courts, according to the Associated Press, and the Illinois Supreme Court will hear arguments in March on a state pension law that could bear on Chicago.
© Copyright IBTimes 2023. All rights reserved.