Moran Atias, Omri Casspi, Bar Refaeli Mourn Kidnapped Teens On Social Media: 'They Killed Our Boys' [PHOTOS]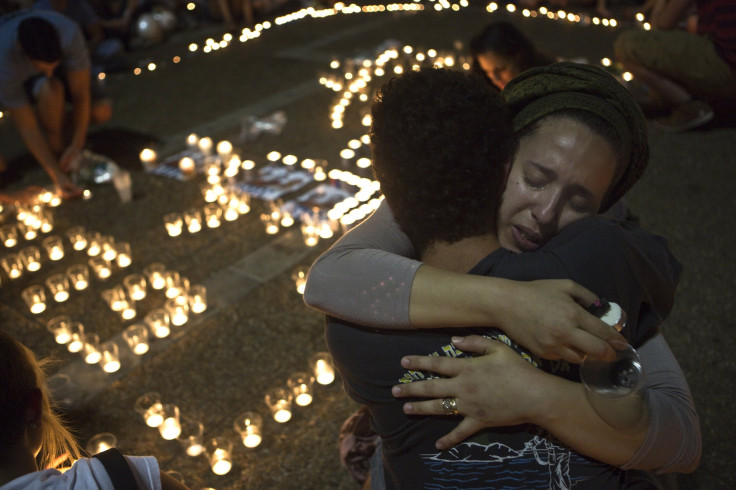 From supermodel Bar Refaeli to basketball star Omri Casspi, Israel's brightest stars took to Twitter to mourn the deaths of the three Israeli teenagers whose bodies were found in the West Bank on Monday, nearly two weeks after they disappeared.
Prime Minister Benjamin Netanyahu vowed revenge against Hamas, the militant group he held responsible for the kidnapping and murder of Eyal Yifrach, 19, and 16-year-olds Gilad Shaar and Naftali Frenkel. Hamas denied responsibility and warned that there would be consequences if Israel attacked Gaza in response. An obscure Palestinian jihadist group called Supporters of the Islamic State of Jerusalem later claimed responsibility.
Refaeli used the hashtag #stopterror to mark the incident and shared a photo of the boys on her Instagram account:
Casspi, the first Israeli-born player to compete in the NBA, called the deaths of the missing Israeli boys "an unspeakable tragedy."
"I can not Imagine the pain that the families of feel. It's an unspeakable tragedy and my heart breaks for the mothers, fathers, sister brothers and friends of those involved," wrote Casspi, who plays for the Houston Rockets. "These were innocent boys try to live out there life and it was tragically cut short by terrorists. May we all say a prayer for the family and offer anything they need and comfort on this time of need and mourning for them. RIP."
Israeli-born musician Keren Ann said in a Facebook message that her heart were with the families of the three boys.
"Eyal was 19, Gil-ad was 16, Naftali was16. They were just heading home after a class. My deepest thoughts and wishes of strength are with their mothers, their fathers, their brothers and their sisters," she wrote.
Model and actress Moran Atias had tears in her eyes as she held up a sign saying "They Killed Our Boys," with "Killed" in red marker.
Israeli tennis star Shahar Peer shared a photo of the three boys on her Instagram account:
Other notable Israelis retweeted messages of condolences from other social media accounts.
Soccer player Yossi Benayoun, who plays on the Israeli national team and Maccabi Haifa, retweeted a message in Hebrew that said in part, "18 days of hope over pain and sadness" along with photos of Shaar, Frenkel and Yifrach.
Israeli-born professional poker player Eli Elezra tweeted a photo from the Jewish Poker Twitter account that said the boys were "too young to die" and used the hashtag #IsraelMourns:
© Copyright IBTimes 2023. All rights reserved.