More Americans Are Finding Work, But The Work Isn't As Good As It Used To Be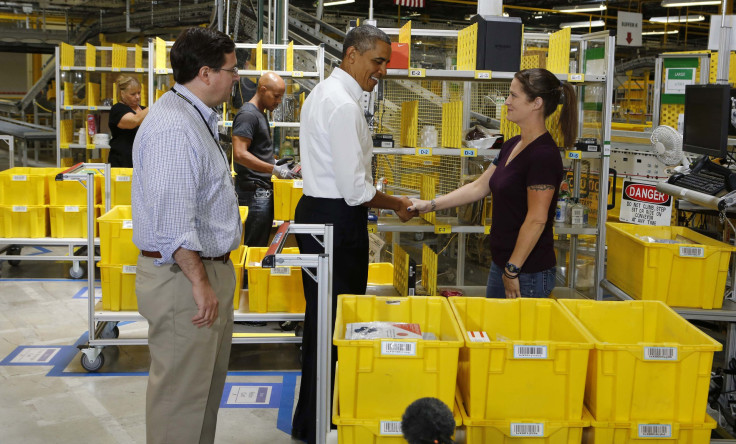 The headlines on Friday's U.S. jobs report make it seem as if the American economy has finally shed the aftereffects of the Great Recession.
The unemployment rate dropped last month from 6.7 percent to 6.3 percent, businesses hired an unexpectedly robust 288,000 more people and hiring was broad-based with employment increases for business professionals, retail employees and construction workers. The last time more Americans were hired in a month was May 2010; before that it was February 2006.
But though the economy may be in recovery, millions of Americans are experiencing a different kind of labor market -- one with little job security and a lot of low-wage, no-benefits positions.
"We're seeing things now that usually happen early in a recovery in year five and it's been this long, slow slog," Kate Warne from Edward Jones said. "Now we're beginning to see good news that we expect a lot earlier in a recovery, it's just come very late in this one."
"Lower wage industries accounted for 22 percent of job losses during the recession, but 44 percent of recent employment growth," concluded a study released this week from the nonprofit National Employment Law Project (NELP). "Today, lower-wage industries employ 1.85 million more workers than at the start of the recession."
According to the NELP analysis of Bureau of Labor Statistics data, almost 2 million jobs that pay less than $14 an hour were lost during and in the eight months after the recession, but since February 2010 more than 3.8 million of these low-paying jobs have been created, largely thanks to a strong rebound in low-wage jobs, such as retail. At the same time, 6.8 million jobs paying between $14 and $33 an hour were lost in the recessionary period while only 4.9 million have since been created. In other words, the jobless recovery is looking like a jobs-for-less-pay recovery.
This trend to lower quality employment was underscored recently in a study from Luxembourg-based LIS commissioned by the New York Times showing that the United States middle class, which has long been the world's most affluent, is now second to Canada's middle class. Meanwhile, low-income earners in the U.S. now make less than their European counterparts.
Jeffrey Paterson has experienced this wage erosion firsthand.
The 55-year-old Minneapolis graphics designer says he used to find steady work for companies like American Express and 3M, making $25 to $30 an hour. But he was let go last year from a steady job making packaging for a pharmaceutical company after it was acquired and moved to Michigan. He's been looking for steady work for the past 10 months and on Thursday he interviewed at a small local business that designs and sells T-shirts at a suburban mall.
"I was asking for 16, 17 dollars an hour," he said. "They wanted to pay me 10."
In the post-recession recovery about a quarter of available jobs pay below the poverty line for a family of four, and many of them lack any assurances on a given week that hours won't be cut or positions eliminated. Temp agencies, like the ones Peterson has been courting to find work, so far unsuccessfully, have become the norm for millions of job seekers.
The situation has been so discouraging for so many that the labor-force participation rate, the percentage of Americans who are employed or actively seeking employment based on a monthly household survey, dipped in October, December and April to lows unseen since 1978. Last month nearly four in 10 Americans were so discouraged that they aren't even counted in the official 6.3 percent jobless figure.
"We would have liked to have seen the household survey rate not decline, not to have the surveys going in opposite directions," Jerry Webman, chief economist for OppenheimerFunds, said. "It tells us that there's still some tough going out there."
The question may be whether "tough going" is the new norm.
© Copyright IBTimes 2022. All rights reserved.
FOLLOW MORE IBT NEWS ON THE BELOW CHANNELS