Syrian Venture Returns Russia To International Center Stage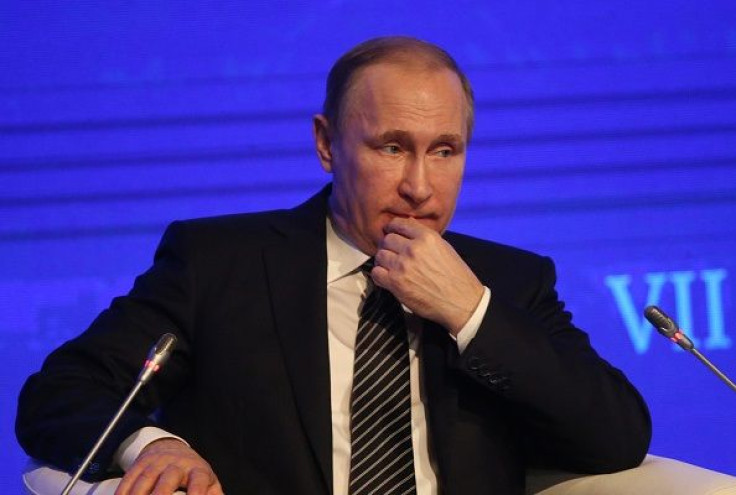 LONDON — The Monday announcement by President Vladimir Putin about Russia's military drawdown in Syria provoked surprise in the White House and even, reportedly, among officials in Russia's own Defense Ministry.
For many, the move was as unexpected as the Kremlin's September decision to begin bombing in support of the embattled Syrian regime — Russia's first significant military foray in the Middle East since the fall of the Soviet Union.
In the intervening six months, the position of Syrian President Bashar Assad, a key Russian ally in the region, has been stabilized; a ceasefire was brokered between the majority of the country's main warring parties; and most importantly, according to analysts, Moscow has been at the center of intense international diplomacy.
"In terms of convincing the European Union and United States to talk to Putin, it has been a spectacular success," said Keir Giles, an expert on Russia at the Chatham House think tank in London.
For many analysts, Russia's new standing in the world explains why Putin decided to dramatically scale down the military presence earlier this week. "Politically there were many different objectives and they have all been met," said Giles.
U.S. Secretary of State John Kerry is expected to visit Moscow next week — his second trip to the Russian capital in three months. Russian Foreign Minister Sergey Lavrov has held regular meetings with Kerry since Russian planes began flying missions over Syria, and President Barack Obama and Putin have spoken repeatedly over the phone about the crisis.
"As we mark the fifth anniversary of the start of this horrific war, we may face the best opportunity that we've had in years to end it," Kerry said Tuesday in the wake of the Russian pullout, Agence France-Presse reported.
Russian diplomatic exchanges with European officials — under pressure domestically from refugees fleeing war-ravaged Syria — have spiked, and there has also been high-level contact between Russia and the other Middle Eastern countries heavily invested in Syria's civil war.

The sight of Moscow courted by world powers is a far cry from the isolation that the country found itself in as the Kremlin was pilloried for its actions in Ukraine and felt the impact of sanctions imposed by Western countries.
Russia was excluded from the G8 club of rich countries in the wake of its annexation of the southern Ukrainian region of Crimea in early 2014 and Putin famously left a G20 meeting in November 2014 early after being snubbed.
From the very outset, Russia's military push in Syria was widely characterized as an attempt to claw back international prestige. By the middle of 2015, the separatist conflict in eastern Ukraine had been frozen by a peace deal, and the region appeared to offer few opportunities for foreign policy successes — only reminders of Russia's global estrangement.
Putin dialed back his overt anti-American rhetoric of recent years ahead of the start of the bombing campaign, and even turned on the charm offensive when he visited the U.S. for a September United Nations meeting.
Mentions of Ukraine by Russian officials and Kremlin-friendly media dropped even before the bombing campaign in Syria began and have remained far down news bulletins on state-owned television ever since.
"No one is even talking about Crimea anymore," said Chatham House's Giles.
Few people now give credence to Putin's insistence that Russian strikes were aimed at countering the growth of the Islamic State group and other radical militias. Western leaders accused Moscow from the outset of indisciminately targeting any opposition groups fighting Assad.
"I've been in Asia for a week. Did Russia defeat ISIS while I was gone?" Michael McFaul, former U.S. ambassador to Russia, tweeted sarcastically Tuesday after the announcement of the Russian withdrawal.
"Moscow thinks it has achieved its goal of ending its international isolation — that was the goal of the Syrian operation and not at all a victory over terror," Russia's leading business daily, Vedomosti, wrote in an editorial Wednesday.
While polls in Russia have shown consistent popular support for strikes in Syria, the campaign has not fueled the same huge spike in domestic approval of Putin that was generated by the Kremlin's seizure of Crimea and its backing of separatist rebels in eastern Ukraine.
In February, Russian independent pollster Levada Center released data that showed 59 percent of Russians backed airstrikes, while just 18 percent of respondents said they followed events closely.
"Of course it's good that they are pulling the troops out. Everything costs money, and it means there will be fewer civilian casualties and fewer pretexts for terrorist attacks against Russians," Alina, 31, who lives in Moscow, told International Business Times.
"But as a Russian citizen I'm fairly indifferent to Russia's activities abroad. It doesn't really impact my life. But domestic affairs, in particular the economy, impact my life a lot."
Russia's economy contracted 3.7 percent last year and is set to continue shrinking this year — the country's longest recession since the 1990s. People have been hit by declining real incomes, spiraling inflation and wild fluctuations in the value of the ruble.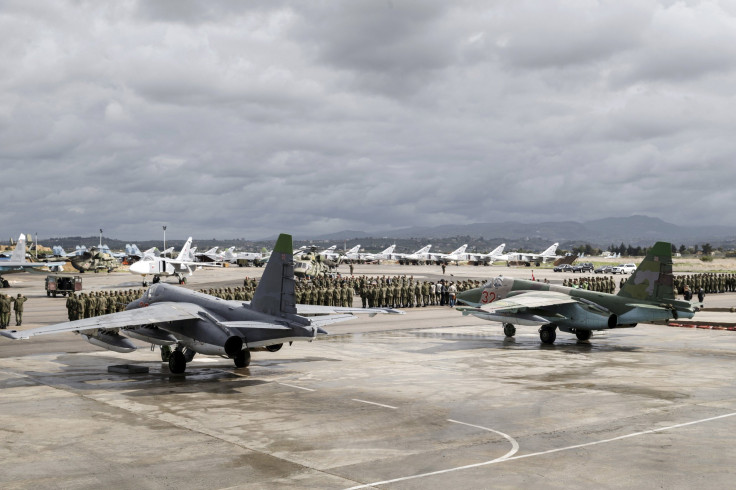 Russian news website RBC estimated Wednesday the cost of the 167-day Syrian campaign at over 38 billion rubles ($547 million). While this is small change in terms of Russia's overall defense budget, and experts point to the benefits for the military in the form of training and equipment testing in Syria, the pullback comes at a time of retrenchment for Russia's public finances that will hit even military spending. Sergey Chemezov, head of state-owned defense conglomerate Rostec, told the Wall Street Journal last week that the Russian government will cut its defense orders by about 10 percent this year.
The Kremlin has retained the necessary infrastructure in Syria if it ever wants to ramp up its military presence again.
Just under half of Russia's fixed-wing strike jets have flown out of Syria in the last two days, according to calculations by Reuters, but part of the force will remain. Russian defense officials have said that airstrikes, albeit at a lower intensity, will continue in Syria.
Russia's aerial capabilities will give it the option of moving quickly to shore up Damascus if the regime's stability is ever threatened.
"If Assad remains in power, then Putin has won this round," Alexander Tevdoi-Burmuli, an expert at Moscow's MGIMO University, told the Dozhd television channel Tuesday.
FOR FREE to continue reading
✔️ Unlock the full content of International Business Times UK for free
offer available for a limited time only
✔️ Easily manage your Newsletters subscriptions and save your favourite articles
✔️ No payment method required
Already have an account?
Log in
© Copyright IBTimes 2023. All rights reserved.