A Motorized Unicycle? The RYNO Motors Microcycle May Be Future Of Urban Transit [HOLD, see question]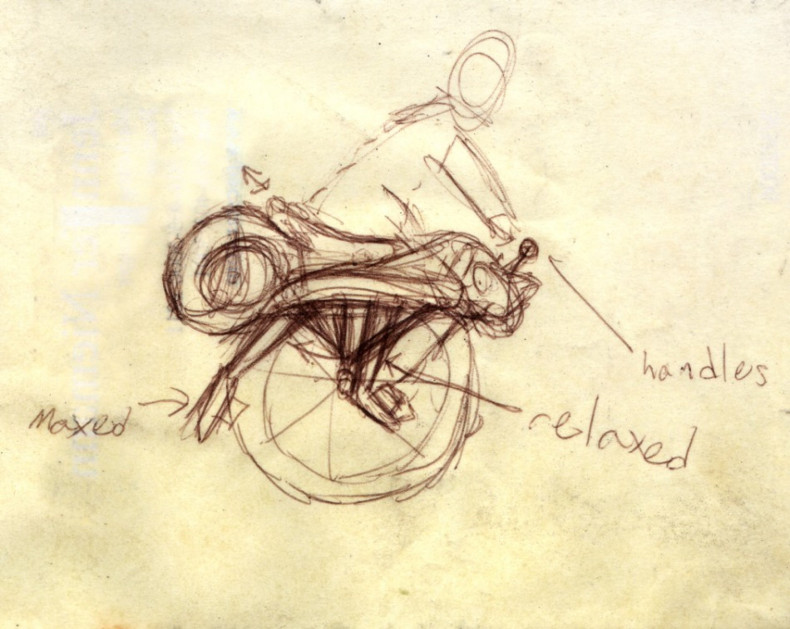 In a world where personal mobility is dominated by the bland dorkiness of the Segway, a 13-year-old girl and her inventor father are hoping the RYNO Motors microcycle, a motorized unicycle, will revolutionize how mall cops, Arab sheiks and Hollywood glitterati get around.
The RYNO has been in development for five years and has gone from a videogame-inspired fantasy to a product and company on the brink of securing series A investment to launch production and global sales. The RYNO looks distinctly like the one-wheeled motorcycles the chimp henchmen in the old Windows 3.1 computer game "Gizmos & Gadgets" rode.
"The idea came from my 13-year-old daughter [Lauren]. We were going out fishing one day, and she said, 'Daddy, I saw a one-wheeled motorcycle in a video game. Can you even build that?'" RYNO Motors founder, CEO and inventor Chris Hoffmann said Thursday. Lauren's question stuck with Hoffmann, who has a long history of engineering and tech development and whose LinkedIn profile lists his education as the "School of Hard Knocks."
Hoffmann started out by trying to come up with reasons why the RYNO wouldn't work, but every obstacle he tried to throw in his path was easily overcome as he found technical components and engineering solutions. The first prototype worked, but only really in a straight line. Hoffman and his software engineer had decided that if the design required any kinds of double wheels or constantly spinning fly-wheels, they would scrap it. When he encountered the steering problem on the RYNO prototype, Hoffmann decided to put a motorcycle-style steering apparatus on it, even though he wasn't even really sure of how it would work theoretically since there is only one wheel.
"I went to the shop and welded some crap together and loaded some software onto it and in 15 minutes I was riding around my neighborhood. It was incredible," Hoffmann said. The technology that keeps the RYNO upright is similar to that of the Segway, and to steer the RYNO, the rider simply needs to lean into the turn.
The RYNO, which has a footprint of just 16 inches by 34 inches, takes up less room than a regular bicycle, making it very easy to take it onto public transportation or even into stores, shopping malls and elevators. "People are not threatened by it," Hoffmann said. Moreover, the planned production five-horsepower electric motor means it is both silent and capable of speeds of up to 20 mph and a range of up to 20 miles. The RYNO will recharge in 1.5 hours and can carry a passenger weighing up to 280 pounds.
The RYNO, though, is not just an interesting thought experiment, it also seems to be well positioned to meet an emerging demand. Since Hoffmann produced the first prototypes, interest in the RYNO has begun to snowball. RYNO Motors' YouTube page receives an average of 14,000 views per day, and Hoffmann has received requests to purchase a RYNO from Hollywood actors and models, Daniel Tosh of "Tosh.O" and several people inquiring about giving RYNOs to Middle Eastern sheiks. Law enforcement agencies have also expressed interest in using the RYNO as an alternative to motorcycles or Segways, and the Portland, Ore., police department has a contract to test out two of the vehicles.
All the attention has caught Hoffmann somewhat by surprise, though. "I still don't understand what makes people so excited about this," he said.
RYNO Motors recently brought a former vice president for marketing at Segway onto the its board, and there are plans in the works to sell the RYNO through Segway dealers. Hoffmann is also currently in talks to license production of the RYNO to companies in the Baltic states, South America, India, Canada and Sweden, and a Chinese company has approached RYNO Motors about becoming a manufacturing partner.
RYNO Motors has received a terms sheet from a Portland area angel investment firm for a $300,000 round of series A investment. Hoffmann says the plan for the next year is to produce and sell 50 RYNOs in the U.S. and to begin scaling up production after a second round of investment, which he expects to be in the millions of dollars. In two years he hopes to be producing at least several thousand units.
Because of the electric motor and stability systems in the RYNO, drivers don't need a special license to operate it, and it falls into the same regulatory category as the Segway. With an estimated price of $4,500 the unusual vehicle should be accessible to a wide swath of consumers rather than just the ultra-rich. While the RYNO might not be the best vehicle for picking up groceries, it will have applications in crowd situations, point-to-point urban transportation and industrial settings. Plus, people tend to think it looks pretty cool.