Motorola Moto X Release Date Arrives For Verizon, T-Mobile, Sprint: Google Phone Now Offered On Most U.S. Carriers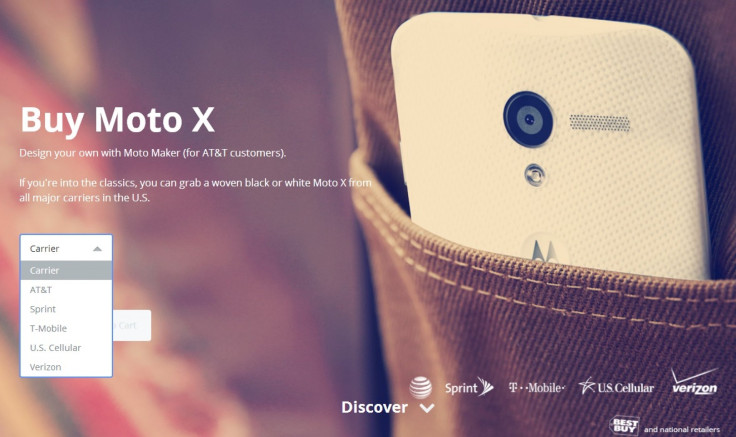 Motorola announced early Tuesday morning that it would allow orders for the Moto X across most U.S. carriers, including Verizon, AT&T, Sprint, T-Mobile and U.S. Cellular. The Moto X can be custom designed on the Moto Maker website, an exclusive feature for AT&T customers. Motorola and parent company Google Inc. (NASDAQ:GOOG) will offer the Moto X in "woven" black and white to other carriers, at least until Verizon offers Moto Maker customization "later this year."
The Moto X will cost $599 without a contract discount. It will sell at a price of $199 on-contract from Verizon, AT&T, Sprint and T-Mobile. U.S. Cellular offers the Moto X at the reduced price of $124.99 after a new customer 2-year contract discount. T-Mobile customers who wish to order the Moto X in woven white will have to wait, as Motorola says the color option isn't currently available.
Motorola announced Moto X's availability across carriers on the same day that Apple unveiled its newest iPhones – the 5C and 5S – in Cupertino, Calif. The Moto X features two separate processors in addition to the main CPU: one for its "always-on" voice controls and a "situational awareness" processor that determines where the Moto X is and how it is being used based on data read from a series of sensors.
Motorola will release the Moto X with an option to unlock the bootloader, allowing customers to install customized ROMs, which are alternative versions of the phone's Android operating system, developed by Google. Unlocking the bootloader voids the manufacturer's warranty on the Moto X, and customers must first agree not to sell the Moto X after unlocking its bootloader.
© Copyright IBTimes 2023. All rights reserved.